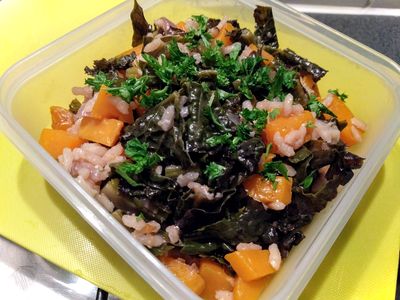 Risotto is easy to make and the combination of ingredients is unlimited which means that I am never bored to eat them. This time, I decided to use the Brussels sprout top which is something pretty unusual for me, but that is the second time that I get it from the vegetable box. Last time, I made some pesto with it and then serve it along with pasta and mushrooms (don't hesitate to click on the link for having a look at the recipe).
I added the Butternut squash in order to add a touch of colour to the whole dish.
The risotto was delicious and I found out that it was pretty convenient to reheat it in the microwave or to freeze/defrost it which give the risotto a massive plus value.
SERVE:

 

PREPARATION:

 10 minutes

COOK:

 25 minutes

DIFFICULTY:

 
What do you need?
100 g of Brussels sprout top
200 g of Butternut
1 onion
1 vegetable stock
125g of Arborio rice
2 tablespoon of olive oil
Pepper
Aromatic fresh herb
How to make a Risotto with Brussels sprout top and Butternut?
Start by washing carefully the Brussels top and chop it as thinly as you want to have them in the risotto

The Brussels sprout top will get softer when cooked and it will shrink a little bit but not as much as spinach
Peel the butternut and cut it into small cubes

The cubes of butternut needs be small for making sure that they can be cooked during the making of the risotto
Peel the onion and chop it
In a large pan, heat the 2 tablespoons of olive oil
When the oil is hot, add the chopped onion and stir it for at least 3 minutes until it gets tender
Add the chopped Brussels sprout top, stir it frequently for 5 minutes

Cover it between stirring for making sure that the Brussels sprout top gets tender
Then add the square pieces of Butternut along with the Arborio rice
Stir all together for 3 minutes
Then add 500 ml of boiling water with the vegetable cube

The water should cover all the food
Let the risotto being cooked for 18 minutes covered on slow heat
Then serve it straight away with some freshly chopped aromatic herbs and pepper on top

This dish can also be reheated easily in the microwave for the next day lunch.

I found as well that risotto bears really well to be frozen which is convenient for someday when there is no time for cooking
More recipe to try and enjoy: