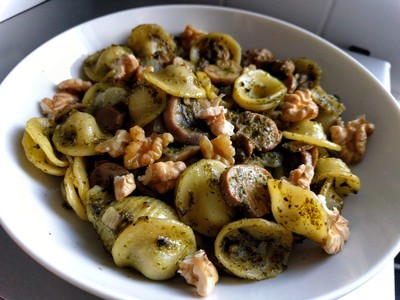 This recipe was inspired by one of the recipe created a while ago: mushrooms pasta with pesto and walnuts. I made this new version only on my memories and then when I checked the actual recipe, I can see that we can't really trust our memories… but the result is really tasty and smells good in the whole kitchen.
In this recipe, I used a homemade pesto but you can obviously decide to go ahead with a ready-made pesto.
SERVE:

 

PREPARATION:

 5 minutes

COOK:

 15 minutes

DIFFICULTY:

 
What do you need?
120 g of pasta, I used orecchiette
120 g of mushrooms (I usually prefer to use fresh mushrooms but I didn't have some, so I used canned sliced mushrooms)
1 onion
100 g of Homemade Brussels sprout top pesto (check the recipe here)
40 g of walnuts
1 tablespoon of olive oil
Salt, pepper
How to make Pasta with Brussels sprout top pesto, mushrooms, and walnuts?
Start by cooking the pasta as indicated on the packaging
Peel and chop the onion
In a pan at medium heat, heat the olive oil, when it is hot, cook the onion for a couple minutes until they get tender and slightly brown
Then add the sliced mushrooms
Add the cooked pasta and stir
Add the homemade Brussels sprout top pesto and stir
Then add the walnuts

I like to soak the walnuts a little bit in cold water for making them softer and more digestible
Add seasoning if needed
Serve it straight away
More recipe to try and enjoy: