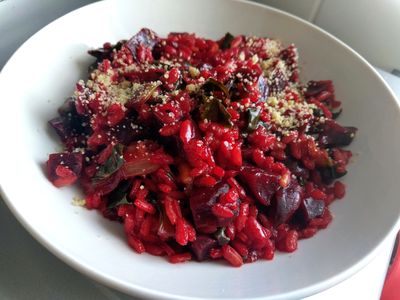 With the grey and long winter, it is always appreciated to get some colour on your plate. One of the most convenient ingredients in winter for doing that is beetroot. They are in season and therefore cheap to buy and they are full of colour. After sharing the recipe of spaghetti with beetroots, this time is the risotto made with beetroots and spinach. The dish is really pleasant to look, really tasty and on top of that, it is gluten-free and vegan.
SERVE:

 

PREPARATION:

 10 minutes

COOK:

 25 minutes

DIFFICULTY:

 
What do you need?
150g Arborio rice
200g beetroots
100 g fresh spinach
½ onion
3 tablespoon of olive oil
35 cl vegetable stock
Pepper
Vegan parmesan (in mixer, mix 50g of raw cashew nuts with 5g of sea salt and 1 tablespoon of nutritional yeast)
How to make a Risotto with beetroots and spinach?
Start by cooking the beetroots

The beetroots can be steamed 30 minutes or if you are in a rush, it can be done 10 minutes in the microwave. For doing that, put some water in the microwave plastic container and then add the unpeeled beetroots. 10 minutes is for small beetroots, it is advisable to have similar size of beetroot for having them heavenly cooked
Peel the beetroots and slice them into small square pieces
In a large pan, heat the olive oil over medium heat
Peel the onion and chop it
Once the olive oil is hot, cook the chopped onion for 3 minutes at medium heat
Wash carefully the spinach and dry them slightly with some kitchen paper
Add the washed spinach to the pan and stir them for 2 minutes at medium heat

If the spinach are huge, it is better to chop them before adding them into the pan, so there are spinach on all the risotto and not only in one place.
Add the cooked beetroot and continue to stir for an extra minute
Add the rice and stir it for 3 minutes
Add the boiling vegetable stock and pepper
Cook the risotto for 18 minutes at small heat and cover

The boiling water should cover all the rice and vegetables. During the cooking process, check without stirring that there is still enough water for avoiding the rice to burn. Top up with some boiling water if necessary, not too much for avoiding to flood the risotto
Serve the risotto straight away with some vegan parmesan on top
More recipe to try and enjoy: