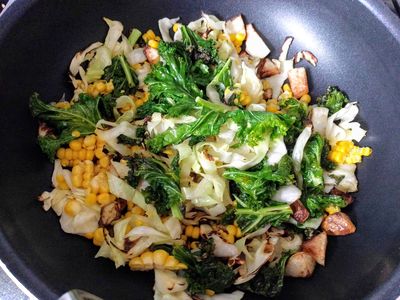 A new recipe made with all sort of cabbage: Kohl Rabi, kale, pointed head cabbage… all cooked really quickly in a wok for making a stir-fry, that helps to keep all their goodness. Adding some corn to the recipe adds a touch of colour… so delicious.
SERVE:

 

PREPARATION:

 10 minutes

COOK:

 30 minutes

DIFFICULTY:

 
What do you need?
160 g of Kohlrabi
300 g pointed head cabbage
100 g of kale
2 sweetcorn cob
2 tablespoons of sunflower oil
3 tablespoons of tamari sauce or soy sauce
Handful of roasted sesame seeds
How to make a Vegan cabbage stir fry?
Start by washing carefully all the vegetables
Remove the leaves from the sweetcorn cob and steam it for 20 minutes
Peel the Kohlrabi and put it in square pieces
Chop roughly the kale
Make some slices of the pointed head cabbage
In a wok pan, heat the sunflower oil at medium/strong heat
When the oil is hot, through the square pieces of Kohlrabi in the pan
Cook them while stirring for 5 to 10 minutes
Then add the kale and stir for 3 minutes
Then add the pointed head cabbage and stir it for 3 to 5 minutes

The cabbage is cooked when the slices are all soft
Then add the steamed sweet corn after having removed the middle of it
Add the tamari sauce and leave it to cook for 3 more minutes
Add some roasted sesame seeds

For roasting the seeds, put them in a pan without oil and leave them to cook on medium heat for a couple of minutes. Be careful, it can burn really quickly
More recipe to try and enjoy: