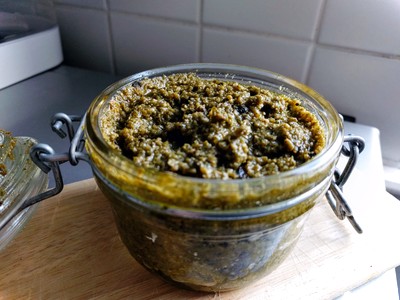 When I get my last veggie box, I was pretty surprised to find what is called Brussels sprout top, I didn't know that such a thing could exist. As you might know, Brussels sprout is pretty new on my diet as I had bad memories from my childhood, but now I like to make them stir-fry, don't hesitate to have a look at my recipe for making a wok with beansprout, kale, and mushrooms.
Back to Brussels sprout top, I had a look online and I was surprised to see that it was not unknown and that is really good for the health. As soon as I was more familiar with the Brussels sprout top, 3 ideas came to my mind: first was to use it in a stir-fry, second was to make a soup which is pretty classic when I don't know a vegetable but the third option was a gambling choice: making a pesto with it.
Pesto is something that I like in theory but as I don't really digest properly garlic, I tend to avoid it, so make my own was the perfect option. After investigating numerous recipe of pesto online, I decided to give a go with my own version made with Brussels sprout head… delicious and for sure pretty original.
SERVE:

  – around 260g of pesto

PREPARATION:

 15 minutes

COOK:

 2 minutes

DIFFICULTY:

 
What do you need?
100g of Brussels sprout top
40 g of grated parmesan
½ lemon for juice
80 ml of olive oil (in that case I used half olive oil made with green olive and the other half with olive oil made with black olives)
Handful of both parsley and basil
How to make Brussels sprout top pesto?
Prepare the Brussels sprout top by keeping massively the leaves and trying to avoid the stem. Put all the sleeves in pieces

The stem can be kept for making a soup later
Wash it carefully
Put some water to boil and as soon as the water is boiling, through away the Brussels sprout top pieces into it and leave it for 2 minutes

This step is used for making the leaves tender and easier to mix
Remove the Brussels sprout top pieces from the boiling water and try to dry them with some kitchen towel for avoiding to keep too much humidity
In a mixer, put all the Brussels sprout top pieces and mix them for having a kind of paste
Then add the juice of ½ lemon, the parmesan, aromatic herbs and half of the olive oil and mix it
Check the texture of the pesto and add bits by bits the leftover of olive oil

I didn't add salt and pepper as I prefer to it when I use the pesto in a cooking recipe. On top of that, I usually find parmesan quite salty
More recipe to try and enjoy: