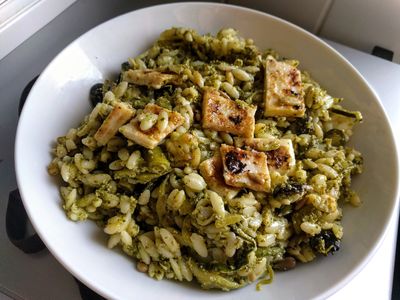 Usually, I served pesto with basic shape pasta but this time, I wanted to change a little bit and made the recipe with orzo. Orzo is something that I found at the bulk shop that I visited a few weeks ago in West London. I will buy it again as it was a good quality one, not too big and not too small. Do you know Orzo? It is a pasta with a slight shape of rice.
On this recipe, I used my homemade broccoli pesto. The pesto was made with some broccoli leftover. Indeed, last time, in the vegetable box, I get some really nice broccoli more similar to flowers than the usual broccoli. So, I used all the top for a stir fry and then decided to make this recipe with the leftover (pesto included)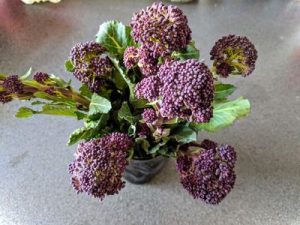 The colour and the taste of this dish are really good and I am pretty happy about this nearly "zero waste" recipe.
SERVE:

 

PREPARATION:

 15 minutes

COOK:

 20 minutes

DIFFICULTY:

 
What do you need?
100 of broccoli or broccoli stem
50 g of black olive
100 g of courgettes
120 g of orzo
1 tablespoon of olive oil
A couple of pieces of vegan halloumi or halloumi
Homemade broccoli pesto
How to make Orzo with broccoli pesto, spiralized courgette and black olives?
Start by cooking the orzo as indicated on the package

 Usually it is cooked as pasta in boiling salted water for 7 to10 minutes
Wash carefully the broccoli stem or broccoli and slice them
In a large pan, heat the olive oil over medium heat
When the oil is hot, add the broccoli stem and stir them for 3 to 5 minutes
In the meantime, slice in 2 parts black olive
Wash carefully the courgette and spiralize it
In the pan, add the sliced black olive and stir them for 2 minutes
Then add the spiralized courgette and stir them for 2 minutes
Add the cooked orzo
Then add the broccoli pesto and stir it for 3 minutes for making sure that all the ingredients are well brushed with the pesto
In a grill pan, grill quickly some pieces of halloumi
In a plate, serve the orzo with pesto, courgette, olive, broccoli stems and add on top grilled halloumi bites
More recipe to try and enjoy: