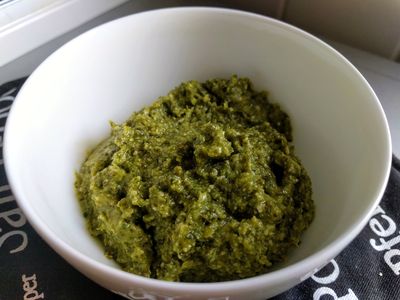 Pesto is a nice recipe for avoiding to waste some part of the green vegetable such as the broccoli stem or leaves. The taste is even greater when it is homemade and that is really easy to make.
This homemade broccoli pesto recipe has been made with some Purple Sprouting Broccoli leftover.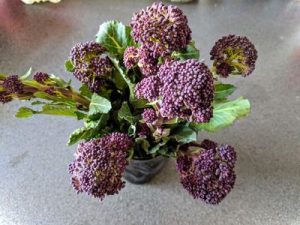 SERVE:

  to 

PREPARATION:

 10 minutes

COOK:

 3 minutes

DIFFICULTY:

 
What do you need?
100 g of broccoli leaves and/or pieces of stem
40 g of homemade vegan parmesan (mix together 100g Raw Cashew Nuts with 10g Sea Salt and 2 tablespoons of Nutritional Yeast)
½ lemon for juice
½ onion
80 ml of olive oil
Handful of parsley, basil
Couple of wild garlic leaves
How to make Homemade Broccoli pesto?
Wash carefully the broccoli leaves and/or pieces of stem
Boil for 3 minutes the pieces of broccoli for softening them
Peel and chop the onion
In a mixer, add the slightly cooked broccoli pieces, vegan parmesan, aromatic herb, wild garlic, lemon juice, chopped onion and half of the olive oil
The olive oil needs to be added bit by bit for achieving the right consistency for the pesto
Use the pesto straight after with some pasta (such as Orzo for making the recipe: Orzo with Brussels pesto, spiralized courgette and black olives)

The pesto can be kept refrigerated for a couple of days
More recipe to try and enjoy: