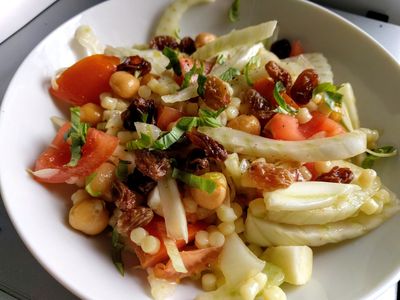 I like the flavour of the fennel but I used to eat it cooked in a soup or when I am doing my own cooking vegetables stock. But this time, I decided to try it raw and enjoy fully the taste. In order to have well-balanced flavours, I made the salad with sultanas, tomatoes, and chickpea (for the protein intake). I used giant couscous as the base. The combination was great and really summery.
SERVE:

 

PREPARATION:

 10 minutes

COOK:

 10 minutes

DIFFICULTY:

 
What do you need?
200 g of fennel
80 g of chickpea (in a can or raw, if using raw, bear in mind that they need to soak for at least 12 hours and then be cooked for 1 hour)
80 g of giant couscous
3 tomatoes
20 g of sultanas
A handful of aromatic herbs such as parsley or basil
How to make a Fennel salad with tomato, chickpea, sultanas and giant couscous?
Start by cooking the giant couscous as indicated on the packaging

Usually, it needs to be cooked in 1.5 volume of salted boiling water and simmer for 6 to 10 minutes
Wash carefully all the vegetables
Chop the fennel in order to make some slices of it
Slice the tomatoes and put them in square pieces
In a small bowl of boiling water, put the sultanas in order to help them to raise
Drain the giant couscous and let it get cold
Prepare the chickpea by following the instruction (it all depend if using raw or canned chickpea (it also depends on the brand of the canned that you bought))
In a plate, start by a layer of giant couscous
Then add a layer of chopped fennel
Add the piece of tomatoes, cooked chickpea, and drained sultanas
Add chopped aromatic herbs
Add seasoning such as 2 tablespoons of olive oil, 1 tablespoon of apple cidre vinegar, salt and pepper. And alternative can be 1 tablespoon of mustard with 1 teaspoon of apple cidre vinegar, mix them carefully and then add bit by bits the olive oil in order to achieve the volume of sauce needed.
Serve it cold
More recipe to try and enjoy: