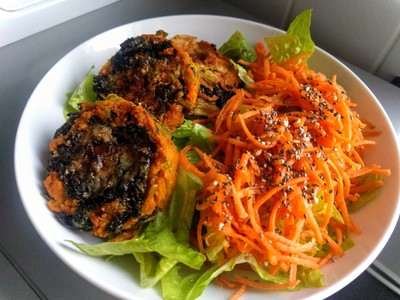 Making vegetables cake is an easy way to eat vegetables and it is always beautiful because full of colours.  This recipe is using kale, sweet potatoes and leeks and there is no egg on purpose, one egg can be used without problem for adding more consistency to the whole recipe.  As I decided to not adding egg, I use a kind of cookie cutter for making the rosti and then I bake them in the oven.
The cakes are topped with parmesan and paprika but all topping will be nice.
SERVE:

 

PREPARATION:

 15 minutes

COOK:

 15 minutes

DIFFICULTY:

 
What do you need?
1 large sweet potato
2 leeks (in this recipe, only the white part is used, the green part can be used for soup or for homemade vegetable stock)
50g of kale
Salt, pepper
Paprika
Handful of aromatic herbs such as parsley
How to make some Cake or rosti made with sweet potatoes, leeks and kale?
Peel the sweet potato and then grate it

Grating the sweet potato will help to speed up the cooking and it will also help for making the cake
Wash carefully the leek and slice it
Wash carefully the kale and slice it really thinly
Steam all the vegetable for 15 minutes

Add some vegetable stock to the water that will be used for simmer the vegetable in order to give some taste to them
Mix with the fork all the vegetable together, add salt, pepper and chopped fresh aromatic herbs

  if you want to add an egg to the recipe, that when you are mixing the vegetable all together that the egg needs to be added

  use a baking circle or a cookie cutter for having all the cake with the same shape
In an oven tray, cover with baking paper put all the cake
Sprinkle vegan cheese or parmesan and paprika on top of each cake
Bake the cake for 15/20 minutes in the oven at 180°C
Serve the cake with salad, grated carrots and quinoa
More recipe to try and enjoy: