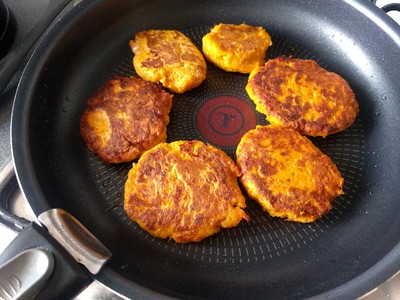 I like eating sweet potatoes as the colour of it is quite appealing and it is a nice change from potatoes. I can get bored of doing mash sweet potatoes, so this variation as a blini is a nice addition to my cooking notebook. That is the perfect side for a slice of ham, fish or meat or it can be served along with a salad as it contains egg which means that the blinis already contains your protein intake.
The smell of the cooking the sweet potatoes blini is really nice.
Easy to make and they can be stored in the fridge for a couple of day in a hermetic box so it is a nice to have for some crazy week when the time is flying so fast.
SERVE:

 

PREPARATION:

 15 minutes

COOK:

 25 minutes

DIFFICULTY:

 
What do you need?
250 g of sweet potatoes
1 egg
3 tablespoon of flour
2 tablespoon of sunflower oil
salt
How to make homemade sweet potatoes blini?
Peel the sweet potatoes
Steam or boil them for 15/20 minutes
Mash the cooked sweet potatoes
Then add a mixed egg and a pinch of salt
Add the flour and mix again
Make some balls of sweet potatoes and roll them in flour

 I usually use either a cookie scoop or a tablespoon for trying to have some uniform size of blini
Heat in a large pan 2 tablespoons of sunflower
As soon as the oil in hot put the blini to heat on medium heat, 3 to 4 minutes on each side
Serve them straight away or store them for later in a hermetic plastic box
More recipe to try and enjoy: