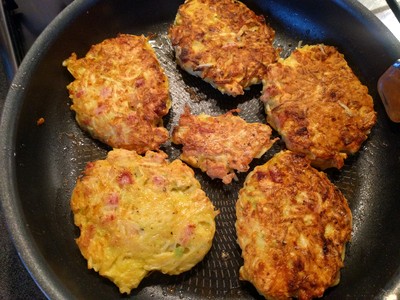 As it is advised, I am trying more and more to eat fruits and vegetables in season. That is not easy because I used to have some habits such as eating tomatoes all along the year and on top of that, the offer at the supermarket is so various that it could be hard to resist. So this week, I decided to cook courgettes are there are in season and therefore usually more affordable.
I get some inspiration from my last sweet potatoes blini cooking recipe, it was so easy to make and you can store them in your fridge for 2 to 3  days. That is perfect for some lunch box. Usually, I made this blini for going along with something but this time I decided that the courgette blinis will be the main course on itself so I put some cheddar and pancetta. That is really nice to eat straight away with a salad or the next day reheated in the microwave.
SERVE:

 

PREPARATION:

 15 minutes

COOK:

 10 minutes

DIFFICULTY:

 
What do you need?
2 small courgettes or 1 large courgette
2 egg
3 tablespoon of flour
40 g grated cheddar
70 g pancetta
2 tablespoon of sunflower oil
salt
How to make blini with courgettes, cheddar and pancetta?
Peel the courgettes and shred them
Mix them with egg and a pinch of salt
Add grated cheddar and pancetta
Add the flour and mix again
Make some balls of courgettes dough and roll them in flour

I usually use either a cookie scoop or a table spoon for trying to have some uniform size of blini
Heat in a large pan with 2 tablespoons of sunflower at medium heat
As soon as the oil is hot put the blinis to heat on medium heat, 3 to 4 minutes on each side
Serve them straight away or store them for later in a hermetic plastic box
More recipe to try and enjoy: