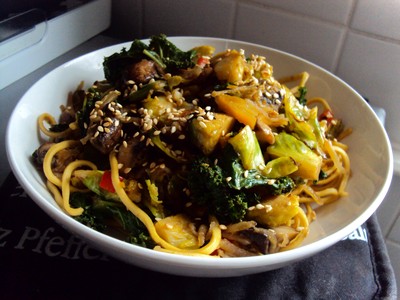 Beansprouts are part of those vegetables that I dislike really much, I can't remember when I ate some for the last time. But it is true that seeing them at the shop, I was attracted by the small size and always wondered if the taste was that good… but I didn't have the courage to buy some.
The beansprout arrived in my kitchen through the organic vegetable box that I received every week. Face to face with them, I needed to find a way to cook them, it is how they ended in a wok, with Kale, mushrooms, pepper and a little bit of chilli for spicing up the whole mix.
This wok can be eaten straight away but it is also easily reheated in the microwave the next day for your lunch box.
SERVE:

 

PREPARATION:

 5 minutes

COOK:

 15 minutes

DIFFICULTY:

 
What do you need?
1 small chilli (optional)
20g kale
200g bean sprout
100 g chestnuts mushrooms
2 nest of Asiatic egg noodle
2 to 3 tablespoon of soya sauce
2 tablespoon of sunflower oil
Handful of roasted sesame seeds (optional)
 How to make Beansprout, kale, mushrooms noodle work?
Wash carefully the kale and chop it
Wash carefully the bean sprout and slice them into square pieces

It is important to not have big pieces of vegetables for the wok to make sure that they are going to be cooked quickly
Wash the mushrooms and slice them into square pieces
In a wok, heat at medium heat 2 tablespoons of sunflower oil
Cook the bean sprout for a couple of minutes (no longer than 5 minutes)
Then add the kale and continue to cook for a couple minutes
Then add mushrooms, pepper and chilli and continue to cook for a couple of minutes
Cook the egg noodles

Usually, the egg noodles just need to be dropped in boiling water for a couple of minutes
Add the soya sauce to the wok and then add the cooked noodle
Serve it straight away with roasted sesame seeds on top
More recipe to try and enjoy: