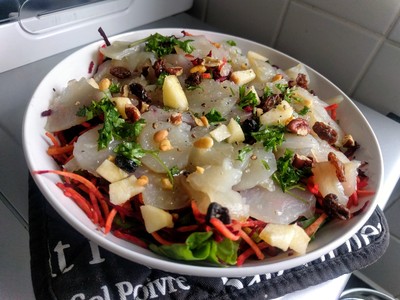 Eating raw food is really trendy or perhaps it is just because I am only reading about it. I am trying to eat raw food for lunch and dinner but sometimes, I am struggling and I find more comfort eating a soup or something cooked in the oven. But, for a couple of weeks now, I took the habitude to make a huge salad for Sunday lunch. I know in the United Kingdom, it is more traditional to have some roasted beef but as I am collecting my veggies box on the weekend, I can't resist eating the raw vegetable a couple of hours after collecting them. They are extra fresh and some of them are still covered with soil.
This week, I had some Jerusalem artichoke on the box, something that I haven't seen for ages and that I can't remember the taste. I decided to add it to my salad plate, steamed and nicely presented. The fact to add mixed nuts and sultanas was the perfect match for the flavour of the Jerusalem artichokes.
SERVE:

 

PREPARATION:

 15 minutes

COOK:

 15 minutes

DIFFICULTY:

 
What do you need?
2 small raw beetroots
2 medium size carrots
10 small Jerusalem artichokes
Rocket salad
½ apple (optional)
Fresh aromatic herbs
Handful of mixed nuts and sultanas (optional)
4 tablespoon of olive oil
2 tablespoon of apple cider vinegar
Salt, pepper
How to make a Colourful salad with carrots, beetroots and Jerusalem artichokes?
Peel carrots, beetroots, Jerusalem artichoke and apple
Grate the carrots and raw beetroots
Slice the Jerusalem artichoke and steam them for 15 minutes

Add some vegetable stock in the water of your steamer for adding some flavour to the steamed Jerusalem artichoke

Check that the Jerusalem artichokes are cooked with a knife, to make sure that they are tender
Peel the apple and put it in square pieces
Wash the rocket salad
Place the rocket salad on a plate, then add the grated carrots and beetroots
Add the apple and display nicely the sliced Jerusalem artichoke
Add the seasoning and the chopped aromatic herbs
Sparkle the salad with nuts and sultanas
More recipe to try and enjoy: