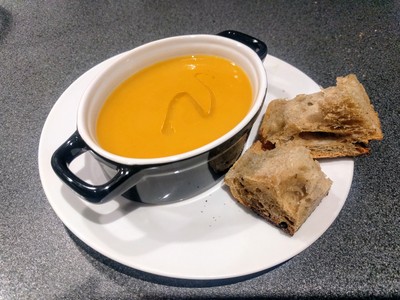 I love making soup at night. It is one of way to cool down after a long day at work. But I quite understand that it could be boring to eat soup every night, it is why I have a lot of recipes of soup, don't hesitate to check on the website (there is a soup category in each family).
The other day, I was hosting a dinner party, I decided to make a soup as a starter and I wanted to have it quite festive, so I added some truffle oil. Mixing parsnip with sweet potatoes was a great idea and the final touch with truffle oil can be the winner starter for your festive days.
SERVE:

  as a main or  as a starter

PREPARATION:

 5 minutes

COOK:

 20 minutes

DIFFICULTY:

 
What do you need?
1 large sweet potato or 2 medium size sweet potato
1 small parsnip
60 cl of vegetable stock
2 teaspoon of truffle oil
How to make a Parsnip and sweet potatoes soup with a dash of truffle oil?
Start by peeling all the vegetable and cut them into small pieces
Cook the vegetables in 600 ml of water with a vegetable stock for 20 minutes

Use some boiling water to speed up the cooking time.

Use a lid on top of the pan for speeding up the cooking time
Mix the soup
Serve it really hot with a dash of truffle oil

Don't put too much of truffle oil
More recipe to try and enjoy: