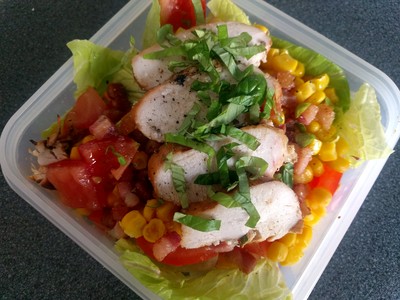 A couple of weeks ago we went to a barbecue party, it was for that barbecue that I made the cauliflower tabbouleh. At that party, there was far too much food to eat, so every guest got home with a plastic box with some really nice leftover. I decided to take some marinated chicken breast, it was smelling so good while it was being cooked on the barbecue. Rather than deciding to reheat it in the microwave and match it with mash, it decided to make a chicken salad. It was a really great idea thanks to a chicken breast nice cooked, grilled but really tender inside.
SERVE:

 

PREPARATION:

 10 minutes

COOK:

 0 minute

DIFFICULTY:

 
What do you need?
1 roman heart salad
2 to 3 wine tomatoes
200g of canned sweetcorn
1 or 2 cooked chicken breast marinated with lemon and thyme
Fresh aromatic herbs such as parsley or basil
Salt
Pepper
Olive oil
Balsamic vinegar
How to make a chicken salad with tomato and sweetcorn?
Slice the Roman heart salad and wash it carefully
Drain the salad and put it in each lunch box
Wash and slice tomatoes

 I like to make some square pieces of tomatoes rather than only slicing them, I think it is looking better in the salad
Add the tomatoes pieces in the salad
Open the sweet corn can and drain it
Add the sweetcorn on top

 This time, I tried the sweet corn with no salt added for having a salad healthier
Slice the cooked chicken breast and dispose them nicely on top of the salad
Add some fresh aromatic herbs such as basil or parsley
Add salt, pepper, 1 tablespoon of olive oil and half tablespoon of balsamic vinegar on top of each salad

 As I usually make this salad for lunch box, I add the salt and pepper but put olive oil and balsamic vinegar in a small sauce container for avoiding the vinegar to cook the salad
More recipe to try and enjoy: