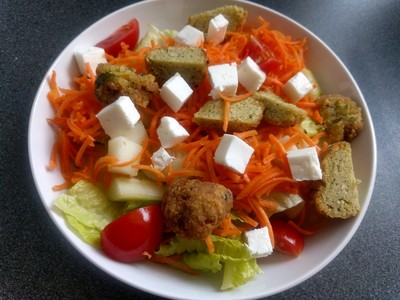 A few weeks ago, I decided to try to do homemade falafel and I have been surprised how easy it was. If you missed that post, please have a look at it (homemade falafel).
So with this new product in my kitchen, I decided to copy some salads that I saw on some sandwich shops, that is how the falafel and feta salad born.
I wanted to make a fresh and colourful salad in order to eat something refreshing with this really warm summer weather. The feta was the perfect match with the falafel and the carrots and tomatoes add the colour.
The salad is so easy to put together, that is will be a shame to not doing it at home.
SERVE:

 

PREPARATION:

 15 minutes

COOK:

 0 minute

DIFFICULTY:

 
What do you need?
2 carrots
8 falafels
8 cherry tomatoes
24 square pieces of feta
Roman heart salad
How to make feta and falafel salad?
Cut the salad and wash it
Shred some raw carrots
Cut in two the cherry tomato and keep it whole if you prefer
Cut in two or four the falafel (it depends on the size of the falafel)
In a lunch box or salad box, put some layer of salad, grated carrots, cherry tomatoes and finish with the feta and falafel
Then add the seasoning

If it is for eating straight away, add the seasoning otherwise, it is better to keep the seasoning in a small seasoning pot to avoid the balsamic vinegar to sour the salad

Usually for the seasoning (for 2 salads) I mix 2 tablespoons of olive oil, 1 of the balsamic vinegar, salt and pepper and some fresh aromatic herbs such as parsley or basil
More recipe to try and enjoy: