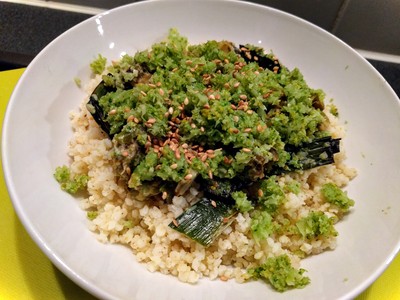 Since I decided to become mainly vegetarian, I discovered so many food that I was not aware of. At first, I thought that I will eat a lot of pasta and rice but that is not the case at all.
That is questioning me on some alternative to rice and pasta, that millet appears like a nice option. I really like the look of the cereal and the fact that the taste is not too strong, it is really easy to match it with various vegetables. I decided to go ahead with some simple leak fondue and add some thinly chopped broccoli. The floret of broccoli are so thinly chopped that it is like powder which is a new way to keep eating broccoli.
This dish on top of vegetarian is gluten free and vegan. It is looking as delicious as it is.
This dish is perfect reheated for a next day lunch box.
SERVE:

 

PREPARATION:

 20 minutes

COOK:

 30 minutes

DIFFICULTY:

 
What do you need?
120 g of millet
2 medium size leeks
10 florets of broccoli
3 tablespoon of olive oil
3 tablespoon of soya cream
Salt
Pepper
Handful of roasted sesame seeds
How to make Millet with leeks and thinly chopped broccoli?
Start by cooking the millet as it is indicated in the packaging

I usually cook the raw millet (without oil) on light heat for 5 minutes and then I through boiling water on it and simmer the millet for 20 minutes with a vegetable stock.
In the meantime, wash carefully the leeks and slice them both horizontally and vertically
In a pan, heat at medium heat the olive oil and then stir the pieces of leeks for 10 to 15 minutes

be careful as it could burn really easily.

the leeks are cooked when they are tender and usually have lost half of their volume
Wash carefully the broccoli
In the meantime, bring to boil some water and boil the broccoli for 3 minutes
Then chop thinly the broccoli florets for having something similar to powder
Add half of the broccoli powder to the leaks and add the soya cream and seasoning
In each plate, place the millet, then add the mix leak, broccoli and soya cream
Sparkle then the leftover of broccoli powder and add roasted sesame seeds

you can roast your sesame seeds quickly in a pan, just be careful as it can burn quickly
More recipe to try and enjoy: