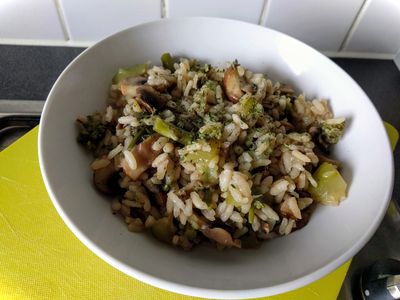 Risotto is simple to make and so tasty. This version of Risotto is vegan but you can add some parmesan cheese on top for a cheesy version.
SERVE:

 

PREPARATION:

 10 minutes

COOK:

 20 minutes

DIFFICULTY:

 
What do you need?
215 g of courgette
250 g of chestnuts mushrooms
50 g of broccoli
1 vegetable stock
175g of Arborio rice
2 tablespoon of olive oil
Pepper
Aromatic fresh herb
How to make a Risotto with courgette, mushroom, and broccoli?
Start by washing carefully all the vegetables
Put the courgette in square pieces

The courgette can be peeled or the skin can be left. For that recipe, I decided to peel it but that is only a preference
Chop roughly the broccoli
Slice all the mushrooms
In a large pan, heat the 2 tablespoons of olive oil
When the oil is hot, add the pieces of courgettes, sliced mushrooms, and broccoli
Cook all of them while stirring at medium heat for 5 minutes
Add the Arborio rice and continue to stir for 3 to 5 minutes
Then add 300 ml of boiling water with the vegetable cube

Do not add additional salt ad the vegetable cube is already salty
The water should cover all the food
Let the risotto being cooked for 18 minutes covered on slow heat
Then serve it straight away with some freshly chopped aromatic herbs and pepper on top
More recipe to try and enjoy: