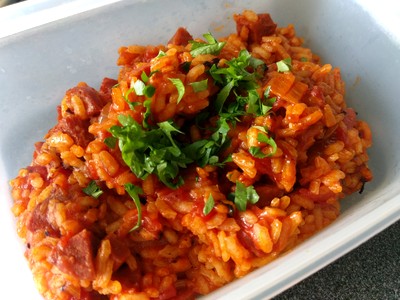 I like the texture of the risotto, really creamy and delicious. Usually, when you mentioned to people that you are doing risotto, they are impressed and all mentioned that is pretty long to make and that need constant attention but for mine, it is done in 18 minutes and request so few follow up.
The association chorizo and tomato came from one of the recipe that I tried at the office for my job. I like the spicy taste of the chorizo mixed with the soft taste of the tomato, all melt on a nice texture.
The risotto can be eaten just after being made, so it is fresh but this cooking recipe is also working well for a next day lunch box, the reheating on the microwave doesn't dry the risotto.
SERVE:

 

PREPARATION:

 10 minutes

COOK:

 18 minutes

DIFFICULTY:

 
What do you need?
1 oinion or ½ onion (I am not a big fan of onion)
100 g of dried chorizo
1 plum tomato can
125 g of risotto rice
300 ml of vegetable stock
How to make risotto with chorizo and tomatoes?
Start by slicing the chorizo and put it in pieces

I like to make small pieces of chorizo to make sure that I have kind of crusty bits all over the risotto. But you can easily leave full slices of chorizo
Peel the onion and put it in pieces
In a pan, stir fry chorizo and onions pieces for 5 minutes on medium heat

There is no need to add some oil, as the dried chorizo, when cooking, giving back a lot of fat
With the plum tomato can, put the tomatoes in one bowl and keep the sauce in another bowl
Slice the tomatoes and add them in the pan
Add the risotto rice and stir fry for 5 minutes on medium heat
Then add both tomato sauce and the 300 ml of vegetable stock
Cover it and let it simmer for 18 minutes on medium/light heat, don't touch the risotto at all during this period
Serve the risotto straight away with some fresh basil on top
More recipe to try and enjoy: