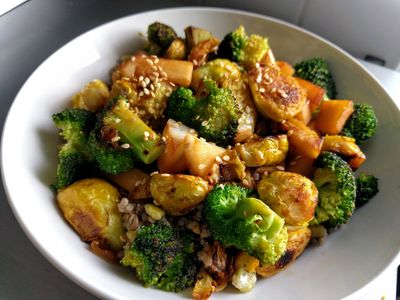 Stir Fry is not something that I really know when I was living in Paris, I discovered it when we moved to UK. I think it is after watching some many videos on how to do spring rolls that I wanted to buy a wok and then start doing stir-fry. The first attempts were not the most successful as I was not patient enough for letting the wok getting hot enough…. But now everything is fine.
Since I subscribed to the vegetable box, stir fry became a must have weekly dish as it is really convenient and quick to make. On top of that, the combination of vegetables is nearly unlimited, so there is no way to get bored of the dish.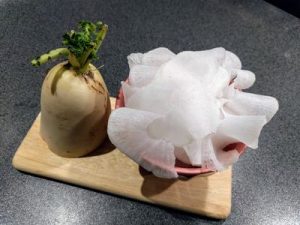 For this recipe, I decided to use Brussels sprout, Broccoli and Daikon (Chinese radish). I served the stir fry on top of a mix of green lentils and millet, so delicious and healthy. This dish is perfect to eat straight away or reheated the next day for lunch.
SERVE:

 
PREPARATION:

15 minutes

COOK:

 15 minutes

DIFFICULTY:

 
What do you need?
150 g of Brussels sprout
100g of broccoli
100 g of Daikon
½ onion or 1 small onion
3 tablespoons of olive oil
3 tablespoons of soya sauce
A handful of sesame seeds
How to do Stir fry with Brussels sprout, broccoli and Daikon?
Start by washing carefully all the vegetables
Then peel the Daikon and put it into square pieces
Slice in 2 parts all the Brussels sprout
Prepare the broccoli into florets
Peel the onion and chop it
In a large wok, heat the olive oil over medium heat
As soon as the oil is hot, put the Brussels sprout into it and stir it until they get a slight brown colour (around 3 to 5 minutes)
Then add the onion along with the Broccoli florets and continue to stir for 3 minutes
Then add the Daikon cube and stir for an additional 3 minutes
Add the soya sauce and stir until all the vegetables get a brown colour from the sauce
Then serve it straight away and sparkle some roasted sesame seeds on top of it

The sesame seeds are roasted in a small pan over medium heat for a couple of minutes, without oil.
This stir fry is really nice served on top of a mix of green lentils and millets, but it could also be served with noodle or rice

I usually cook the raw millet (without oil) on light heat for 5 minutes and then I through boiling water on it and simmer the millet for 20 minutes with a vegetable stock

For lentils, I start by soaking them for 1 hour before cooking them. This step is optional but it helps to reduce the cooking time of the lentils. Simmer the soaked lentils in boiling water for 15 minutes with vegetable stock.
More recipe to try and enjoy: