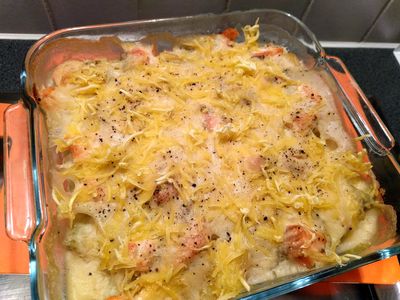 Another week, another vegetable box and a great discovery: Romanesco cabbage. The cabbage is looking like a sculptured stone.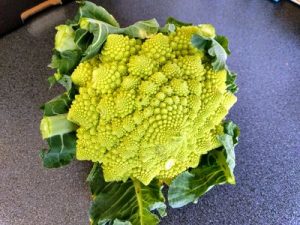 I decided to use it with potatoes and salmon for making a gratin with a dairy free bechamel. The recipe is fairly easy to make and really delicious to eat either straight after being baked in the oven or reheated for a lunch box.
SERVE:

 

PREPARATION:

 20 minutes

COOK:

 30 minutes

DIFFICULTY:

 
What do you need?
350g of Romanesco cabbage
400g of potatoes
260g of salmon
100g of grated vegan cheese
2 tablespoons of nutritional yeast
50 cl of oat milk
50g of flour
50g of vegan butter
How to make Salmon "au gratin" with Romanesco cabbage and potatoes?
Start by washing carefully all the vegetables
Detach the florets from the Romanesco cabbage and put them in a steamer basket
Peel the potatoes and slice them in slices at medium thickness
Place the sliced potatoes in the steamer basket along with the Romanesco cabbage
Steam the vegetables for 10 minutes

  Add some bay leaves in the water for the steam will give a nice flavour to the steamed vegetables
In the meantime, prepare the bechamel, start by stirring together the flour and the oat milk in a pan at medium heat, then add the vegan butter and continue to stir for 10/15 minutes until achieving a creamy texture
Cut in square pieces the salmon

  I prefer removing the skin from the salmon but it is up to your own taste
In an oven tray dish, put all the steamed vegetables, all the salmon squares pieces
Add salt, pepper and nutritional yeast
Add half of the grated vegan cheese
Cover all with the bechamel
Add salt, pepper and the grated vegan cheese leftover
Put it in the oven at 180°C for 20 minutes
More recipe to try and enjoy: