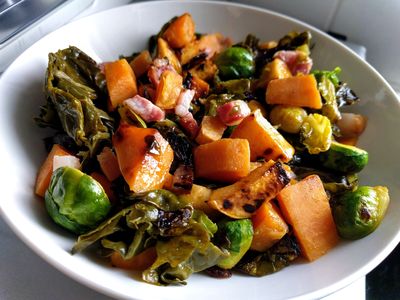 When time is flying and I don't want to compromise what I am eating, stir fry is the best option. The combinations of veggies are unlimited and there are always a way to slightly change the taste with adding soya sauce, maple syrup or spices.
This time, the novelty was to add some maple syrup in order to give a slightly sweet flavour to the whole dish.
SERVE:

 
PREPARATION: 

15 minutes

COOK:

 30 minutes

DIFFICULTY:

 
What do you need?
1 Head of Brussels sprout
2 sweet potatoes
1 turnip
1 onion
A couple of Brussels sprout
120 g of pancetta
2 tablespoons of maple syrup
2 tablespoons of sunflower oil
How to make a Wok with Head of Brussels sprout, sweet potatoes, turnip, and pancetta?
Start by washing carefully all the vegetables
Prepare the head of Brussels sprout by removing the stem of them and only keeping the leaves
Chop roughly the leaves and then steam them for 20 minutes

The leaves need to be soft at the end of the cooking
Peel the sweet potatoes and put them into square pieces

 The pieces need to be around all the same size and quite small for making sure that can be cooked in the wok
Peel the turnip and put it into square pieces

 Again, the pieces need to be around all the same size and quite small for making sure that can be cooked in the wok
Peel the onion and chop it
In a work at medium/slightly high heat, heat the oil and cook the chopped onion for a couple of minutes
Then add the turnip and sweet potatoes and cook them for 10 minutes while stirring them quite frequently

 The vegetable won't be soft cooking like that, so if you prefer softer vegetables, steam them for 10 minutes before putting them in the wok
Add the Brussels sprout sliced in two parts
Add into the wok the steamed leaves of the head of Brussels sprout and continue to cook for 3 to 4 minutes
Then add the pancetta cubes and cook it for an additional 3 to 4 minutes
Serve it straight away with some maple syrup on top
More recipe to try and enjoy: