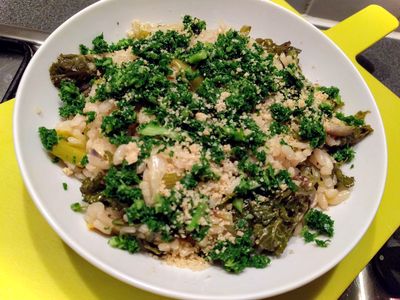 Risotto is something that I discovered pretty lately but that I really enjoyed making and eating it. It is part of a couple of recipe that I have that make endless combinations such as lasagne, stir fry…
This risotto is made with a lot of greens such as leek, kalette (this vegetable is a mix of Brussels sprout and Kale and it is so cute) and some chopped kale. In this recipe, I decided to cook together the chopped leeks and kalette and keep aside the kale so it can be chopped really thinly and then sparkled on top of the risotto as you can do with parmesan. As I just been diagnosed lactose intolerant, I like this idea to make some substitution with a parmesan. So for an even tastier recipe I made some homemade vegan parmesan with raw cashew nuts, sea salt and nutritional yeast.
SERVE:

 

PREPARATION:

 10 minutes

COOK:

 25 minutes

DIFFICULTY:

 
What do you need?
50g kale
100g kalette
2 white part of leeks
175 g Arborio rice
350 ml of vegetable stock
2 to 3 tablespoon of olive oil
Pepper
Vegan parmesan (the recipe is available at the end of the recipe)
How to make risotto with leeks, kalette and homemade kale powder?
Start by washing carefully all the vegetables
Cut the white part of the leeks into small pieces and slice in 2 parts the kalette
In a pan, warm the olive oil, when it is hot, add the leeks and kalette
Let them cook for 5 to 7 minutes at medium heat, stir them quite frequently

 The vegetable should be slightly cooked, softer
Then add the rice and continue to stir for 3 extra minutes
Add the 350 ml boiling vegetable stock on top of the rice, add pepper, cover it and let's cook it for 15 -18 minutes at low heat

  the boiling water should cover all the rice and vegetables. During the cooking process, check without stirring that there is still enough water for avoiding the rice to burn. Top up with some boiling water if necessary, not too much for avoiding to flood the risotto
In the meantime, bring to boil some water and put the kale in it, cook it for 3 minutes
Let it cool and then dry a little bit the kale and then chopped/mixed for obtaining a thin powder
Serve the risotto straight away, sparkle on top the kale powder
Add some vegan parmesan (in mixer, mix 50g of raw cashew nuts with 5g of sea salt and 1 tablespoon of nutritional yeast)
More recipe to try and enjoy: