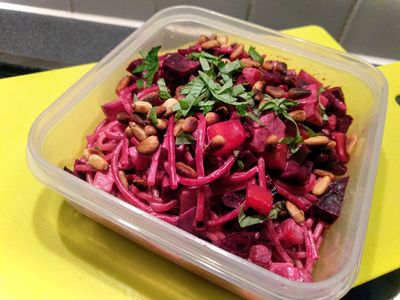 Beetroots are the star vegetables of the winter which is great because of their bright colour… but after a couple of months, it could be quite overwhelming to have them on weekly basis via a subscription vegetable box. Once I served them in salads, stir fry…. It is looking like I did all what I can do with them… until I decided to add full colour to my last spaghetti lunch box.
This recipe was a great way to get rid of the beetroots, a great way as well to light up your winter lunch break when it is all grey outside, so that is all winner.
SERVE:

 

PREPARATION:

 10 minutes

COOK:

 30 minutes

DIFFICULTY:

 
What do you need?
120 g of whole wheat spaghetti
2 to 3 beetroots (depend on the size of the beetroots)
2 medium size carrots
1 red onion
1 tablespoon of olive oil
Handful of pine nuts
Handful of fresh aromatic herbs such as basil
How to make Pink spaghetti with beetroots and carrots?
Start by cooking the whole wheat pasta as it is suggested on the packaging
Wash carefully the carrots and beetroots
Peel both carrots and beetroots and put them in square pieces
Steam both of beetroots and carrots for 25/30 minutes

I usually put a vegetable stock into the water, that will help to put more flavors to the steamed vegetables
Peel the onion and chop it
In a large pan, heat the olive oil, then stir for 5 minutes the chopped onion
In a small pan, roast the pine nuts

Check it frequently, as it can burn pretty quickly
Add the cooked spaghetti in the large pan with the cooked chopped onion
Add the steamed carrots and beetroots and stir everything together for 2 minutes
Served the pasta with carrots, beetroots in your plate or in your lunch box for the next day
Add the roasted pine nuts and sparkle freshly chopped basil
More recipe to try and enjoy: