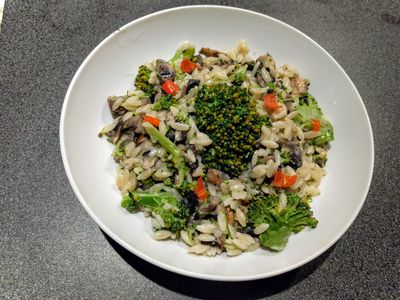 Autumn is coming and therefore the wintery vegetables are back in our plates. I am intended to cook more hot dishes with more carbs than what I am doing during the summer period. This time, I decided to use orzo pasta as a base and then add some fresh mushrooms and broccoli.
I like orzo as even if it is the same family as the pasta, it gives another texture to dishes. Another delicious recipe with orzo is available on the website: Orzo with broccoli pesto, spiralized courgette and black olives
The recipe is vegan but you can be easily amended by replacing the soya cream by cream and add some freshly grated parmesan at the end of the cooking if you want to have a no vegan recipe.
SERVE:

 

PREPARATION:

 15 minutes

COOK:

 15 minutes

DIFFICULTY:

 
What do you need?
450g of broccoli
200g of mushrooms
120g of orzo
1 small chili
Salt
Pepper
3 tablespoons of soya cream
1 tablespoon of olive oil
How to make Orzo with mushrooms and broccoli?
Start by washing carefully all the vegetables
Slice the broccoli in order to have the wished size of floret in the dish

Don't through away the "feet" of the broccoli as it can be used in a vegetable soup
In boiling water, pre-cooked the broccoli for 3 to 5 minutes
In the meantime, start to cook the orzo as indicated on the packaging

 Usually, it is cooked in 7 minutes in a large volume of salted boiling water
Chop the mushrooms
In a large pan, heat the olive oil at medium heat, then add the chop mushrooms
Stir it for 3 minutes
Then add the pre-cooked broccoli
Stir it for a couple minutes
Add the cooked orzo, salt, pepper and soya cream
Stir it for a couple of minutes
Add the chopped chili and serve it straight away

Some parmesan can be added to the recipe in order to add a cheesy flavour
More recipe to try and enjoy: