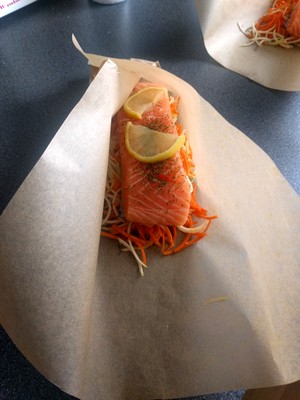 Smoked products are quite trendy at the moment, but I was surprised to be able to find some fresh smoked salmon at the fishmonger. The smoky flavour is pretty soft and quite pleasant, perfect fit for a salmon filet served along with some fresh grated vegetables. I add the idea of this recipe of steamed smoked fresh salmon cooked in a parcel for a dinner with friends.
It was already summer and the weather was already quite warm, I wanted to serve some fine food without using too much heat (ie: oven) in order to avoid a suffocating feeling from my guest due to a too high temperature. The steam cooking was a good idea and the fact to use grated courgettes added a summery touch to the dish.
The dish was really appreciated by the guests, it required a little bit of preparation for grated both courgettes and carrots but it is not too long.
SERVE:

 

PREPARATION:

 15 minutes

COOK:

 30 minutes

DIFFICULTY:

 
What do you need?
2 smoked fresh salmon filet or 2 fresh salmon filets
1 courgette
2 carrots
1 lemon
Soya cream
Dill (optional)
How to make smoked fresh salmon in parcel with grated courgettes and carrots?
Cut some baking parchment paper in order prepare the parcel
Peel the courgette and grated it
Peel the carrots and grated them
On the baking parchment parcel, put a generous layer of both carrots and courgettes

 You can mix the two grated vegetables for playing with the colour and the texture of both courgette and carrots. The carrots will tend to stay crispier than the courgette.
Add on top the salmon filet
Add on each salmon filet, half lemon juice

 You can keep some slices of lemon in order to put them on top of the filet in order to decorate it
Add dill
Add a little bit of soya cream (a couple of tablespoons)
Then close the parcel carefully

 Usually I use some staple for making sure that the parcel is perfectly sealed and making sure that no liquid will leak from the parcel
Steam the parcel for 30 minutes in steamer
Serve the smoked fresh salmon with grated courgette and carrots straight away. It can also be accompanied by some white or brown rice.
More recipe to try and enjoy: