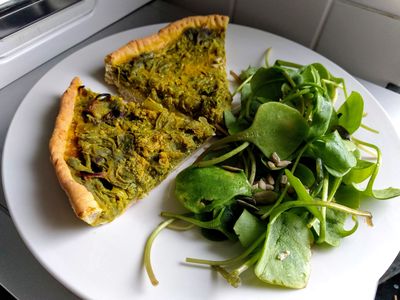 There are a lot of things that could be done with onion: onion soup, flamenkuche, thin onion tart like pissaladière (one of my favourite use of onions) and now I am sharing with you a vegan onion quiche.
Since I am allergic to egg, I have been trying to find some alternative for making my much love quiche. I tried with tofu, it was great but a little bit too thick for my taste, so then I decided to try my usual recipe and just remove the egg and add more corn flour. So now I have my perfect recipe for still enjoying quiche.
In this recipe of Vegan onion quiche, I added half teaspoon of sugar in order to remove the bitterness of the onion but that is completely optional. I hope you will enjoy the recipe as much as I did.
SERVE:

 

PREPARATION:

 15 minutes

COOK:

 40 to 45 minutes

DIFFICULTY:

 
What do you need?
For the quiche:
400 g onion
½ teaspoon of sugar
1 teaspoon of Tumeric powder (that is for adding colour)
1 tablespoon of corn flour
2 tablespoons of nutritional yeast
5 to 10 cl of Soja milk
10 cl of Soya cream
Salt
Pepper
2 tablespoon of olive oil
For the shortcrust dough:
75 g of self-raising plain flour
30 g of corn flour
45 g of vegetable margarine or vegan butter
20 to 40 ml of water
How to make a vegan onion quiche?
For making the shortcrust dough:
Mix in a large bowl: corn flour, self-raising flour and vegetable margarine
Knead the dough with your fingers
Add water, start with 20 ml and then increase if necessary
Knead gently the dough
Wrap it in a plastic film and let it cool in a fridge for 30 minutes

If you have a breadmaker, it is even quicker, you put all the ingredient in the machine and select the dough program
For making the vegan onion quiche:
Peel the onions and chop them
In a large pan, heat at medium heat the olive oil
When the olive oil is hot, put the chopped onion on it, add the sugar and stir it for 5 to 15 minutes in order to get the onion all soft
Cover with a lid when you are not stirring in order to reduce the cooking time
Roll out the dough, shape into a tart mould then bake for 10mins
Add the cooked onion onto the pre-baked pastry, then add salt and pepper and the nutritional yeast
In a small bowl, mix together soya cream, soya milk, turmeric and corn flour
Pour the cream mixture on top of the quiche, then back for 30 – 40 mins

The quantity of soya cream and soya milk are approximated, so top up with more milk if you want to have more liquid
Serve it hot or cold along with a salad
More recipe to try and enjoy: