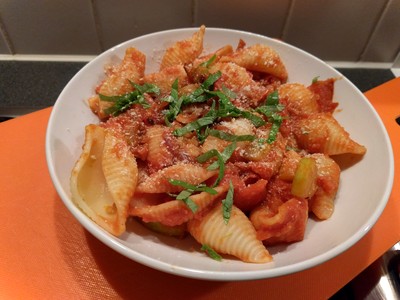 Pasta based dishes are always associated with comfort food, so there is no harm to make them and make them even tastier with fresh and organic vegetable. To make sure to have a well-balanced dish, I decided to add lentils to the tomato sauce which make it thicker but still really delicious. This remake of the basic pasta with tomato sauce is really delicious and will bring you all you need in terms of energy for a busy day.
SERVE:

 

PREPARATION:

 20 minutes

COOK:

 20 minutes

DIFFICULTY:

 
What do you need?
200g tomato
120g pasta (for this recipe, Conchiglie pasta were used)
200g courgettes
1 small pepper
40 g red lentils
½ red onion
1 tablespoon of olive oil
250g of tomato passata
Salt, pepper
Handful of basil
Grated parmesan (optional)
How to make Pasta with vegetables and red lentils tomato sauce?
Start by soaking the red lentils for at least 30 minutes
Peel and chop the onion
Wash carefully tomato, courgette and pepper
Cut into square pieces tomatoes and courgette

If the courgette is organic, the skin can be kept, if it is not, it is better to peel the courgette
Cut in small pieces the pepper
Cook the pasta as indicated in the package
Steam the red lentils for 15 minutes
In a grill pan over medium heat, heat the olive oil
When the olive oil is hot, add the onion and stir it for a couple minutes until it turns slightly brown
Add then courgettes, tomato and pepper and stir them together for a couple minutes until the courgette is tender
In the meantime, in a mixer, mix the passata with the steamed lentils, add seasoning and aromatic herbs
Add the cooked pasta to the pan with the vegetables
Add the tomato sauce just made and stir for a couple of extra minutes
Serve it straight away with freshly chopped aromatic herb and grated parmesan

If you want to keep the dish vegan, do not add the parmesan or put vegan parmesan instead
More recipe to try and enjoy: