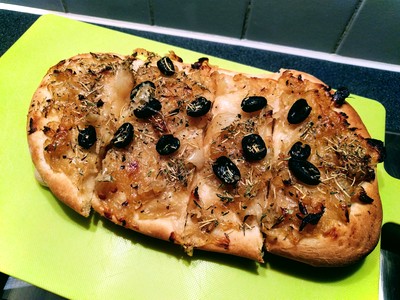 I am not a huge fan of onion but since I have a membership with a weekly veggie box, I am trying to find some ways to integrate them into my diet. Looking at all these onions, I had the idea to make an onion soup, but I wanted to try also something different, so I made a thin onion tart. I get the inspiration from the South of France: pissaladière. I decided to remove the anchovies from the traditional recipe and only keep onions and olives which make a vegetarian and even vegan recipe.
This tart is really nice served hot and sliced for Aperitif, it could also be served cold.
For this recipe, I used a homemade bread dough but if you are in a rush, you can use puff pastry.
SERVE:

  or  as aperitif

PREPARATION:

 30 minutes

COOK:

 15/20 minute

DIFFICULTY:

 
What do you need?
For the topping:
400 g of onions
1 tablespoon of sugar
3 tablespoon of olive oil
10 to 15 Olive
Salt
Pepper
Mixed herbs
For the homemade bread dough (the recipe is 2 small onions tart and 1 small bread):
150 ml of water
1 tablespoon of sugar
1 teaspoon of salt
16 g of olive oil
250 g of plain flour
6 g of dried yeast
How to make a thin onion tart with olives?
For the bread dough:
If you have a bread maker, put all the ingredients in the order quoted above and use the dough program which is usually 15 minutes long
If you don't have a bread maker, in a large bowl mix together water, salt, olive oil, then add sugar, flour and yeast and then knead the bread by hand.

The salt needs to be away from the yeast otherwise it will kill the "power" of the yeast
Make a ball of dough and leave it proving for 40 minutes
Then split the dough in 2 parts, one for doing a bread and the other part of doing the 2 thin onion tart

For doing the bread, leave the dough in a ball, raising 40 minutes in a warm environment, then in a preheated oven at 220°C, bake the bread for 20/30 minutes
For the thin onion tart:
Start by peeling all the onions and slice them
In a large pan, put 3 tablespoons of olive oil and leave it to heat in a medium heat. As soon as the oil is hot, add all the onions sliced. Then add salt, pepper and one tablespoon of sugar

Adding sugar helps to remove the sour taste of the onions
Stir the onion and let them simmer for 10 to 15 minutes
Cut in 2 parts the bread dough for making 2 small onion tart for the aperitif and roll them for having a flat base for your tart
Spread a little bit of olive oil on each dough
Leave the dough prove again for 20 minutes
Continue to stir the onion for 5 minutes in a stronger heat in order to make the onion caramelised but not too much because the onions will finish caramelising in the oven
Then spread the caramelised onion on to the dough
Add olives and mixed herbs
Put the tart in a preheated oven at 200°C for 15 to 20 minutes
More recipe to try and enjoy: