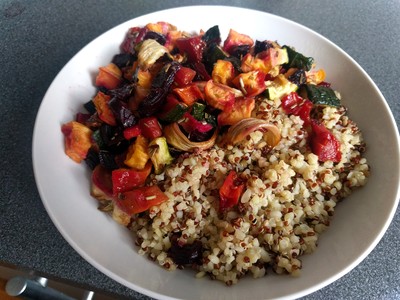 At the moment, I am trying to get more and more vegetarian with the exception of one day per week. I was afraid to be bored by only eating vegetable but that is not true. On top of that, I am taking the opportunity to try again some vegetable that I didn't like. We are never too old to change our taste.
In order to make sure to have all the flavour of the vegetable that I cook, I decided to go ahead with extra fresh vegetable, therefore, I took a membership for receiving fresh organic vegetables.
Last week, I had a lot of beetroots, something that I usually don't cook a lot. But this time, I decided to do honey roasted vegetable for accompanying some quinoa and bulgur dish. I decided to put a lot of variety of vegetables and I ended with a colourful plate. The taste was as good as the look of the dish.
It is looking like honey roasted vegetable will be part of my favourite dish.
SERVE:

 

PREPARATION:

 15 minutes

COOK:

 55 minutes

DIFFICULTY:

 
What do you need?
1 courgette
2 beetroots
3 carrots
1 sweet potatoes
½ fennel
1 tablespoon of honey
2 to 3 tablespoon of olive oil
Salt or Crystal salt
Rosemary
How to make Honey roasted vegetables: beetroots, carrots, sweet potatoes and courgette?
Start by peeling all the vegetable except the fennel and courgette
Remove the green part of the fennel
Wash carefully both fennel and courgette
Make some square bits of all the vegetable when it is possible
Steam for 15 minutes both carrots and beetroots

I decided to steam those two vegetables because I knew it will take longer to cook and I wanted to make them as tender as the other vegetables. If you decide to use already cooked beetroot, only steam the carrots.
In a large bowl, mix the honey with the olive oil and add all the vegetables
With a tablespoon, mix all the vegetables in the mix of oil and honey

The goal of this step is to make sure that all the vegetables have a layer of oil and honey
In a oven tray, covered with baking parchment, spread all the vegetables
Add salt and rosemary

In that recipe, I used crystal salt for having a kind of more authentic flavour
Put in the oven at 180°C for 30 to 40 minutes
Serve the honey roasted vegetables with a mix of quinoa and bulgur
More recipe to try and enjoy: