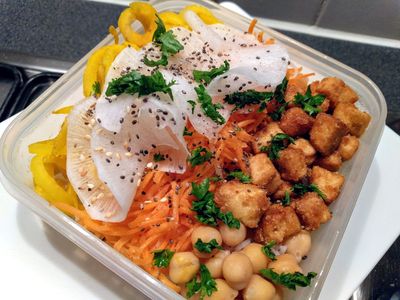 When I collect the vegetable box from Tower Green Hamlet on Friday night or Saturday morning, I get my mind set for preparing all the weekly dishes toward what is inside. Usually, one of the lunch is a big salad. Indeed, I found it really rewarding to make a delicious salad with extra fresh vegetables, they are even tastier.
This recipe is complete dish thanks to the combination of raw vegetables, rice and bit of tofu and chickpea. On top of that, you can make a small batch of this salad for having it for 2 lunches…. But for keeping all the goodness of the fresh vegetables, it is always advised to eat the salad as soon as possible.
SERVE:

 

PREPARATION:

 25 minutes

COOK:

 10 minutes

DIFFICULTY:

 
What do you need?
100 g of firm tofu
2 carrots
1/3 Daikon / Chinese radish
1 raw yellow beetroot
200 g of Basmati rice
20 g of chickpea
Sesame seeds and chia seeds
A handful of aromatic herbs such as parsley
Salt, pepper
Dash of olive oil
Dash of fresh lemon juice
For Tofu marinade:
2 tablespoons of Tamari sauce or soy sauce
A dash of ginger
1 teaspoon of sesame oil
Cornflour
A couple of tablespoon of sunflower oil
How to make Buddha bowl for lunch box with rice, beetroot, carrots, daikon, chickpea and crispy tofu?
Start by preparing the tofu which needs to be marinated for 15 minutes in the fridge
Slice in square pieces the tofu and let it marinate in a mix of 2 tablespoons of Tamari sauce, a dash of ginger and 1 teaspoon of sesame oil
Cook the rice as it is indicated on the packaging
Wash carefully all the vegetables
Peel carrots, daikon, and raw beetroot
Grate the carrots
Spiralize both raw beetroot and daikon

this is optional, all the vegetable can be grated, having them spiralize helps to give some texture to the salad. For the salad, I decided to spiralized the beetroots and put the daikon in a large ribbon.
Cook the chickpea as it is indicated on the can

if you are cooking chickpea from scratch, they need to be soaked for 1 night and then need to be boiled cover at small heat for 45 minutes
Remove the dice of marinated tofu from the bowl and roll each dice in some cornflour
Heat a couple of tablespoon of sunflower oil on a small pan, as soon as the oil is hot, through the tofu cubes in the pan and cook them for a couple of minutes (3 to 5 minutes) until they have a golden colour
Remove the excess of grease from the crispy tofu by putting them on a kitchen paper
Then start to prepare the layers of the salad: starting with a layer of rice, then add side by side, spiralized beetroots, grated carrots, chickpea and crispy tofu
Add on top the spiralized daikon
Add salt, pepper, chopped aromatic herbs, chia and sesame seeds, a dash of olive oil and lemon juice
More recipe to try and enjoy: