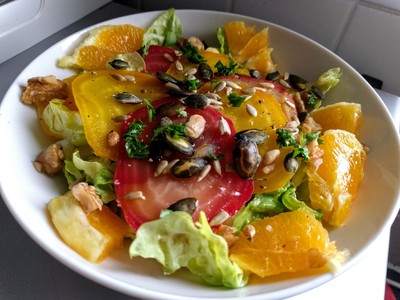 Winter is long and the grey colour of the sky is playing with my mood…. So I needed to eat some colourful dish in order to cheer me up. I decided to build the dish around the beetroots are they are pretty common in winter, then I decided to add some orange. I think I saw something similar in one of the cooking book that I read a couple of months ago. The mix of colour and texture of this starter is perfect for putting joy at the table.
This plate can be served as a starter or for a light for a lunch.
SERVE:

 

PREPARATION:

 15 minutes

COOK:

 45 minutes

DIFFICULTY:

 
What do you need?
2 medium-sized uncooked beetroots
1 large orange
Lettuce
Handful of roasted seeds such as pine nuts, sunflower seeds and pumpkin seeds
Some walnuts
Olive oil
Salt, pepper
Aromatic herbs such as parsley
How to make beetroots and orange salad?
Start by cooking the beetroots, steamed them unpeeled for 45 minutes

If you are using cooked beetroots, please discard this first step
Peel the orange and slice it
When the beetroots are cold, remove the skin and slice them into thin slices
Wash carefully the lettuce
Then prepare the plate, with layers of salad, then pieces of orange, and beetroots
Add walnuts, roasted seeds, seasoning and freshly chopped aromatic herbs

For roasting the seeds, put them in a pan without oil and heat them over medium heat for a couple of minutes. Check them regularly as it can burn really quickly
Serve it really really fresh
More recipe to try and enjoy: