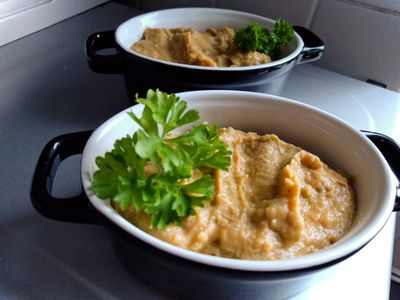 I love making mash, it is like going back to childhood and that is a really nice feeling. I have already shared few mash recipes such as carrots and sweet potatoes mash, healthy carrots mash….
This time, I decided to give a new twist to the recipe by using red lentils instead of potatoes in order to give some value-added to the mash as it will be adding some vegetal protein. That is also a good way to eat some lentils without noticing it.
SERVE:

 
PREPARATION: 

15 minutes

COOK:

 20 minutes

DIFFICULTY:

 
What do you need?
80 g of red lentils
300 g of carrots
70 g of celeriac
10 cl of soya cream
A handful of aromatic herbs such as parsley or basil
Salt
Pepper
How to make Carrots, celeriac, and red lentils mash?
Start by washing carefully all the vegetables
Peel the carrots and put them into square pieces
Peel the celeriac and put it into small pieces
Steam all together carrots, celeriac and red lentils for 20 minutes

  Put a vegetable stock in the water that will be used for the steam, so it will add some flavours to the steamed vegetables
In a mixer, placed the steamed vegetables and red lentils, along with fresh aromatic herbs, salt, pepper and half of the soya cream, mix everything together
Add the soya cream leftover bit by bits for achieving the wished consistency of the mash
More recipe to try and enjoy: