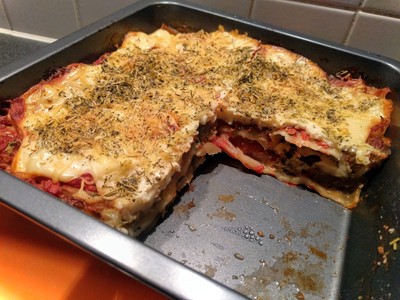 I love doing lasagne over the weekend as it is pretty easy to make and that is really convenient for the meal schedule for the week coming, indeed, you can keep them one or two days in the fridge.
Last time on my vegetable box, I had a massive King January cabbage, that is pretty challenging for us as we are only 2 persons at home and we like to eat something different every day. Therefore I decided to give a go to some King January cabbage lasagne. I was confident in that new recipe which gives a nice twist to the traditional lasagne as my last attempt to more original lasagne was a success, you can find the recipe here for Swiss chard lasagne.
SERVE:

 

PREPARATION:

 20 minutes

COOK:

 45 minutes

DIFFICULTY:

 
What do you need?
1 small King January cabbage or ½ large
1 can of plum tomato
40/60 g of grated cheddar
4 lasagne sheet
½ onion
Salt
Pepper
Fresh aromatic herbs such as basil
For the béchamel:
40 cl of soya milk (or semi skimmed milk)
40 g of flour
40g of olive oil
How to make King January cabbage lasagne?
Wash carefully the January King cabbage
Start by pre-cooking the January King cabbage for 15 minutes in boiling water along with a teaspoon of bicarbonate soda

This step is optional, the bicarbonate soda helps to digest the cabbage
Peel half onion and cut it in small squares
In a pan with 1 tablespoon of olive oil, cook gently the onion

 For my béchamel, I usually make it on my Moulinex Companion as you don't need to stir it.
Put in the Companion bowl, milk and flour
Mix them at speed 7 for 1 min
Then add olive oil and mix it at speed 4 for 8 minutes at 90°C

 The béchamel can also be made in a pan as followed:
Start by mixing together the milk and the flour
Then in a pan on medium heat, add to the mix the oil and let the mix become warm
The mix needs to constantly stir until the smooth consistency is achieved

 When I am doing béchamel for lasagne, I don't add in the béchamel salt and better as I prefer to add when I doing the lasagne
While cooking the béchamel, empty the can of plum tomato and cut into pieces the plum tomatoes
Oil an oven baking tray and start the layer by a bit of tomato sauce (from the plum tomato can)
Add one layer of lasagne sheet

  I am not pre-cooking the lasagne sheet as they will have enough time to be baked when the whole lasagne dish will be in the oven
Add half of the cooked King January cabbage

  Try as much as possible to have a "dry" King January cabbage in order to avoid to have too watery lasagne
Add pieces of plum tomatoes with half the tomato juice
Add béchamel
Add half of the grated cheese
Add salt, pepper and fresh aromatic herbs such as basil
Cover with another layer of lasagne sheet
Add the last half of the cooked King January cabbage
Add the leftover pieces of plum tomatoes and tomato juice
Add béchamel

  Add one teaspoon nutritional yeast (optional) for completing the nutritional content of the dish
Add the remaining grated cheese
Add salt, pepper
Cook at 180°C for 30 minutes
More recipe to try and enjoy: