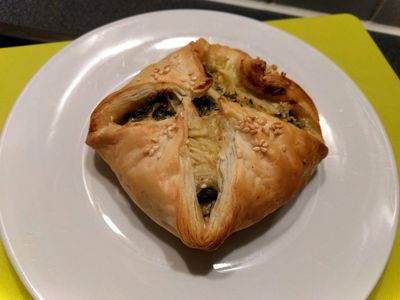 I really like the texture of the puff pastry dough. It can be easily served filled like a parcel for a starter or in a larger size for a main with some salad. It is also great for making really puffy dessert. I am so glad to have found a vegan puff pastry, I am too lazy for making my own.
SERVE:

 

PREPARATION:

 20 minutes

COOK:

 30 minutes

DIFFICULTY:

 
What do you need?
1 Ready to use puff pastry dough
100 g of Kale
50 g of Swiss chard
4 tablespoons of Soya yogurt
Salt
Pepper
50 g vegan grated cheese
A couple of teaspoon of nutritional yeast
Sesame seeds
How to make Kale and Swiss chard puff pastry parcel?
Start by washing carefully all the vegetable
Chop them roughly
In a pan, heat a tablespoon of olive oil at medium heat. When it is hot, add all the chopped vegetable and stir them for 5 to 10 minutes for having them quite tender
Add the soya yogurt and stir it for a couple of minutes
Cut 4 square pieces on the ready to use puff pastry dough
In the middle of each square, add ¼ of the mix kale with swiss chard and soya yogurt
Add on top, salt, pepper, nutritional yeast and vegan grated cheese
Close the parcel

For making sure that it is well close, use some water for sealing it
Brush all the top of the parcel with water
Sparkle some sesame seeds
Put it on the oven for 25 to 30 minutes at 180°C
Serve it straight away
More recipe to try and enjoy: