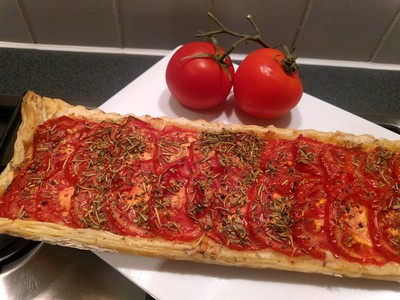 I really love eating tomato; I like the taste and the colour, so I tend to add them in a lot of my dishes and salad. I struggled during quite a time to find the perfect recipe for tomato tart. Indeed, when you cook tomatoes, they tend to give back a lot of water which damages the puff pastry. I didn't want to do a quiche, so I continue to try until I found the perfect trick which was to pre-cooked the pastry and add a layer of cheddar to prevent the puff pastry to become soggy.
In order to give a lot of taste to the tart, I add a layer of mustard straight on the pre-cooked pastry and I don't hesitate to sprinkle dried mixed herb on top of the tomatoes.
I am glad to share with you today one of my favourite recipes. I really like the mix and of course it contains tomatoes so !!!
SERVE:

 

PREPARATION:

 10 minutes

COOK:

 40 minute

DIFFICULTY:

 
What do you need?
1 puff pastry
3 or 4 tomatoes (depend on the size of the tomato)
2 tablespoon of mustard
50g of grated cheddar
Pepper
How to bake a tart with tomato?
Start by putting the puff pastry on an oven pan and put it in the oven for 15 minutes at 180°C

I like to use a rectangular shape mould for this recipe as it gives a different look to the traditional quiche dish. On top of that, I find it easier to put the tomato in a nice order on a rectangular dish than a round dish.

Before baking the puff pastry don't forget to add some cherry stone on top of the pastry in order to limit the rise of the pastry.
While the puff pastry is cooking in the oven, wash the tomatoes
Cut them in a medium size slices
Removed the pre-cooked puff pastry from the oven, remove the cherry stone and spread the mustard on top of the puff pastry
Add the grated cheddar

Adding a layer of mustard and cheddar prevent the puff pastry to become soggy while the tomatoes are giving back water during the baking process

It is better to squeeze a little bit the tomatoes as they will give water while being cooked and the tart is not looking pretty when the tomatoes slices will be shrunken
Add pepper and mixed dried herb
Put the tart in the oven for 30 / 40 minutes at 180°C

You can eye checked that the tart is cooked as you will see that the tomato peel will have shrunken
Serve it straight away with a salad

The tart needs to be served straight away and it is getting cold quite quickly. That is not really good reheated.
More recipe to try and enjoy: