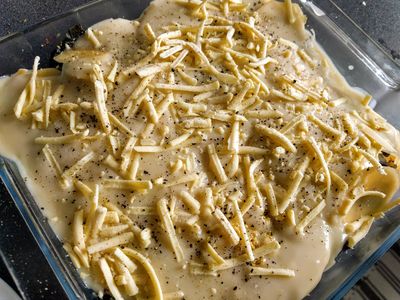 Making gratin of vegetables are quite easy and it is really convenient for the meals during the week as they can be easily prepared in advance. On top of that, the béchamel based gratin is a nice way to associate eating vegetable and keeping a comfort food side. For this recipe, I decided to use the Brussels sprout to leaves (cooked more or less like spinach), potatoes and for making sure that the gratin is full of flavour, I added some grated parsnip. This is a delicious recipe that make an easy dinner or lunch box.
The recipe is done for being vegan but it is easily to replace the vegan cheese and milk with dairy based one.
SERVE:

 

PREPARATION:

 20 minutes

COOK:

 40 minutes

DIFFICULTY:

 
What do you need?
200 g of brussels sprout top leaves
150 g of parsnip
450 g of potatoes
1 onion
2 tablespoons of nutritional yeast
A handful of dairy free grated cheese
50 cl of oat milk
50 g of dairy free butter
50 g of flour
Salt
Pepper
1 tablespoon of olive oil
How to make Brussels sprout top leaves, parsnip and potato gratin?
Start by chopping roughly the Brussels sprout top leaves
Wash carefully all the vegetables
Peel the parsnip and the potatoes
Slice the potatoes (medium thickness)
Grate the parsnip
Steam the chopped Brussels sprout top leaves for 15 minutes

Adding bay leaves in the water for the steam will add a nice flavour to the steamed vegetables
In the meantime, prepare the bechamel, start by mixing well together in a pan the flour with the milk and then add the butter. Cook while stirring frequently at medium heat until achieving the right texture (usually it takes 10 to 15 minutes for doing a béchamel)
Peel the onion and chop it
In a pan with a tablespoon of olive oil, cook the chopped onion for 3 minutes
Then add the steamed chopped Brussels sprout top leaves and continue to cook for 10 minutes
Then grease slightly a dish that is going to the oven
Add a tablespoon of bechamel
Then add 1/3 of the chopped Brussels sprout top leaves
Then add a layer of sliced potatoes and a layer of grated parsnip
Add béchamel, salt, pepper and nutritional yeast
Continue the layers with chopped Brussels sprout top leaves, sliced potatoes and grated parsnip
Finish by a layer of bechamel
Add on top grated dairy-free cheese
Put it in the oven for 40 minutes at 180°C
More recipe to try and enjoy: