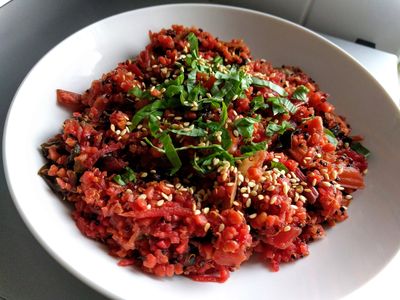 I love the colour of the beetroot but during the winter I feel that I have far too many of them to eat. So now, I am intended to use them for adding colour to the dish that I am preparing. You can have a look at the previous recipe made with beetroots such as Risotto with beetroots and spinach, Pink spaghetti with beetroots and carrots, beetroots and orange salad.
This time, I decided to cook quinoa for its protein intake and bulgur as I don't like quinoa on its own. I cooked them with a pressure cooker for decreasing the cooking time and making sure that the grains are really soft and well cooked. I added swiss chard, fennel and onion for flavoring the whole dish.
It was delicious straight after being cooked but also great reheated in the microwave the next day. Don't forget to add some freshly cut and chopped aromatic herbs on top of the dish, that gives even more flavour.
SERVE:

 
PREPARATION:

20 minutes

COOK:

 20 minutes

DIFFICULTY:

 
What do you need?
60 g of bulgur
60 g of quinoa (mix of black, red and white)
60 g of Swiss chard
240 g of fennel
½ onion
1 small raw red beetroot (red that will give the colour to the whole dish)
2 tablespoon of olive oil
Vegetable stock
Pepper
How to make Red quinoa and bulgur with beetroot, fennel, and Swiss chard?
Start by washing carefully all the vegetables, quinoa and bulgur
In a pan without oil, heat at low heat for 5 minutes, both bulgur and quinoa

 I find that the quinoa is less sour when it is roasted like that before cooking it
Cut the fennel into square pieces
Cut the Swiss chard and separate the stems from the leaves

 The stems need be cooked longer than the leaves, that is why they need to be separated
Peel and chop the onion
Peel and grate the beetroot
In a pressure cooker, heat the olive oil over medium heat
When the oil is hot, cook for 3 minutes the chopped onion and the chopped Swiss chard stems
Then add the pieces of fennel and cook it for an additional 3 minutes while stirring
Add the chopped Swiss chard leaves and cook them for 3 minutes
Then add the bulgur, quinoa and the grated beetroot
Add the 80 cl boiling water with the vegetable stock

 The water needs to well cover all the food. The water will be all absorbed by the cooking process of quinoa and bulgur.
Add some pepper
Cook it for 20 minutes on small heat

 Check that both quinoa and bulgur are cooked, they should be soft
Serve it straight away with freshly cut and chopped aromatic herbs, and sesame seeds
More recipe to try and enjoy: