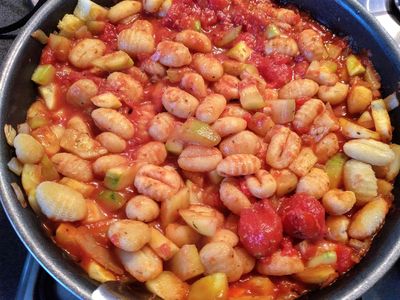 Another recipe for comfort food, easy to make: Gnocchi with courgettes and tomatoes. It is made in couple of minutes and it will you with a lot of flavours. Don't hesitate to add some harissa if you want to spicy up the recipe. If you are not vegan, adding some grated cheese on top of it, will make the recipe even more comforting.
SERVE:

 

PREPARATION:

 5 minutes
COOK:

 20 minutes

DIFFICULTY:

 
What do you need?
300 g of courgette
1 onion
1 canned plum tomato or 5 fresh plum tomatoes
Gnocchi (vegan) to be made in a pan rather than boiled
2 teaspoon of olive oil
Seasoning such as salt, pepper and mixed herbs
How to make Gnocchi with courgettes and tomatoes?
Start by peeling the onion and chop it
Wash the courgette (peel it) and cut it in squares pieces
In a pan, with 1 teaspoon of olive oil, cook for 5 minutes the chopped onion while stirring
Then add the courgettes for 5 to 10 minutes
Add the plum tomatoes
In a meantime, cook the gnocchi as indicated on the packaging

Usually, there are cooked in 5 minutes. It is good to stir them so they can be slightly toasted
Add the cooked gnocchi in the pan with the courgettes, tomato, and onion
Let it cook for an extra 2 minutes and add the seasoning
And then serve it straight away
More recipe to try and enjoy: