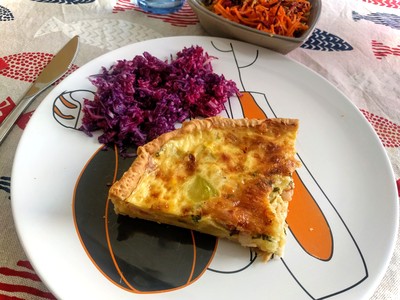 With the autumn season, I can see a lot of squash everywhere, I like their colours and shapes but I was always wondering if somebody buys them and if so, for doing what? except for decoration purposes…. that what are my questions before I get my membership to the veggie box from Tower Green Hamlet. From now on, I have them in my box and need to find a way to cook them. Last time, I had a green, kind of round squash, after looking at it more carefully; I decided to cook it in a quiche. So I get the inspiration from my courgette and pancetta quiche and I made a quiche with it. That was a really great idea and the taste of squash was like a stronger taste of courgettes.
SERVE:

 

PREPARATION:

 15 minutes

COOK:

 30 minutes

DIFFICULTY:

 
What do you need?
For the quiche:
1 squash
45 g of pancetta (this is optional, remove them if you want to have the vegetarian version of this quiche)
40 g of grated cheddar
2 eggs
10 cl of soya cream
Soya milk
Salt
Pepper
 For the shortcrust dough:
75g Self Raising Flour
30g Corn Flour
45g Butter or margarine
20ml Water
How to make a quiche with green squash?
Start by making the shortcrust dough
In a large bowl mix corn flour, self-raising flour and butter
Knead the dough with fingers, before adding water (start with 20ml and increase if necessary)
Once the dough has formed into a nice ball, wrap in cling film and let cool in the fridge for 30mins

If you have a bread maker, put all the ingredient on it and select the "dough" program. Then make a ball with the dough and let it rest in the fridge for 30 minutes
Pre-heat oven to 180 degrees
Wash the squash and cut it into small pieces for taking out the inside
Bring to boil some water and add the squash bites, boil them for 15 minutes

 the squash bits should be tender when they are cooked. Also, not too tender as they will finish being cooked when the quiche will be in the oven
Roll out the dough into the mould and bake for 10mins
Spread pre-cooked squash into the pre-baked dough
Add pancetta and grated cheddar, along with herbs and seasoning
In a separate bowl, mix eggs and cream/milk before pouring on top of the quiche
Bake for a further 30 to 35 minutes
More recipe to try and enjoy: