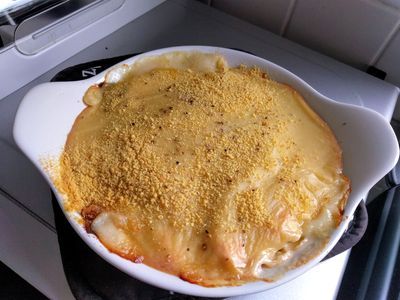 A great meat-based recipe made with chicken, bacon, and leeks. That is a quite comforting dish that could be prepared one day and heat in the oven the next day, convenient when busy.
SERVE:

 

PREPARATION:

 20 minutes

COOK:

 60 minutes

DIFFICULTY:

 
What do you need?
150 g of leeks
200 of chicken breast
50 g of bacon or pancetta
20 g of butter
Salt, pepper
Breadcrumb
For the Béchamel:
40 g of flour
400 ml of milk
40 g of butter
How to make Chicken, bacon, and leeks with bechamel?
Start by washing carefully the leeks and then slice them
In a pan at medium heat, put the 20g butter and let it melt, then add the pieces of leeks
Cover it and let it cook at small heat for 20 minutes, stirring it from time to time
Slice the chicken breast in small pieces
Steam the chicken breast for 20 minutes

Instead of using chicken breast, some chicken leftover can be used. If it is a case, there is no need to steam the chicken

  This step is not necessary if using pancetta
Prepare the béchamel: in a pan at medium heat, mix together the flour and the milk, then add the butter and cook it for 10 minutes, stirring regularly
Grease 2 oven trays
In the oven tray, put together the leeks, bacon and chicken
Add salt and pepper
Add the béchamel
Add salt and pepper
Add some breadcrumbs
Put in the oven at 180°C for 20 minutes
Serve it straight away
More recipe to try and enjoy: