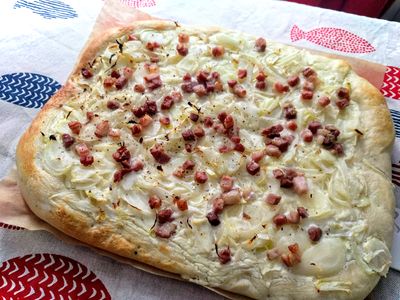 Flamenkuche is a typical dish from the East of France which has been inspired by the German. Last time that I made the dish for some friends of mine, I texted them that I will make that, they googled it and they decided to call it a "German pizza" which is pretty true.
The traditional recipe is made with pretty thick crème fraiche and the dough is pretty thin. I prefer to make mine, lighter using a mix of yogurt and cream and make it on a fluffy dough.
SERVE:

 

PREPARATION:

 15 minutes

COOK:

 15 to 20 minutes

DIFFICULTY:

 
What do you need?
Dough
150 ml of lukewarm water
6 g of dried active yeast
1 tablespoon of sugar
250 g of plain flour
1 teaspoon of salt
16 g of olive oil
For the filling
4 medium size onions
100 g of pancetta
4 tablespoons of soya yogurt
6 tablespoons of soya cream
Salt
Pepper
How to make a dairy free Flamenkuche?
Start by preparing the dough, in a large bowl mix together Water, Salt, Olive oil, Sugar and add Flour and Yeast and then knead the bread dough by hand
If you have a bread maker, put all the ingredients in the order quoted in the ingredients section and use the dough/kneading program (usually 15 minutes long)
Leave the dough to rest in a warm environment for 40 minutes
Then make a big ball of the dough and roll the dough for making a large rectangular dough base

The size of the dough should be big enough for covering a standard size baking tray
Cover the baking tray with baking parchment and lay down the dough
Peel the onion and slice them thinly

Use a mandolin for having quite similar onion slices
In a bowl, mix together the yogurt with the cream for having a semi-liquid texture
Spread the texture on top of the dough
Then add the sliced onion and the pancetta
Add salt and pepper
Leave it to rest 30 minutes
Bake it at 180°C/200°C for 15 to 20 minutes
Serve it straight away on a big chopping board and make some square pieces
More recipe to try and enjoy: