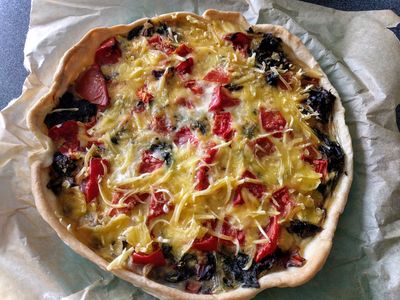 I really like making quiche as it is easy to make and can be eaten hot or cold which is convenient. In order to vary from the traditional quiche Lorraine, I decided to make a quiche with swiss chard and tomatoes. This recipe is designed for being vegan but in bracket, you will find all the alternative for having a non vegan quiche.
SERVE:

 

PREPARATION:

 15 minutes

COOK:

 40 to 45 minutes

DIFFICULTY:

 
What do you need?
For the quiche:
220 of Swiss chard
2 fresh medium size tomatoes
2 tablespoons of nutritional yeast (if you are using vegan cheese)
30 g of vegan cheese (cheddar)
20 ml of soya milk
20 ml of soya cream
1 teaspoon of corn flour (or 2 eggs)
Salt
Pepper
1 tablespoon of olive oil
For the shortcrust dough:
75 g of self-raising plain flour
30 g of corn flour
45 g of vegetable margarine or vegan butter
20 to 40 ml of water
How to make Dairy free quiche with swiss chard and tomatoes?
For making the shortcrust dough:
In a large bowl mix corn flour, self-raising flour and butter
Knead the dough with fingers, before adding water (start with 20ml and increase if necessary)
Once the dough has formed into a nice ball, wrap in cling film and let cool in the fridge for 30mins

If you have a breadmaker, it is even quicker, you put all the ingredient in the machine and select the dough program
For making the vegan quiche:
Pre-heat oven to 180 degrees
Wash carefully all the Swiss chard and the tomatoes
Then split the Swiss chard stems from the leaves

The split needs to be done as the stems need more time to be cooked
Slice in small pieces both the stems and the leaves
In a pan, heat (at medium heat) a tablespoon of olive oil, when the oil is hot, cook while stirring the Swiss chard stems for 5 minutes
Then add the Swiss chard leaves and continue to cook for 3 minutes

The Swiss chard leaves are cooked when they are all shrunken
Cut the tomatoes into square pieces
Roll out the dough into the mold and bake for 10mins
Spread pre-cooked Swiss chard stems and leaves and the square pieces of tomatoes into the pre-baked dough
Add the nutritional yeast and the grated vegan cheese along with salt and pepper
In a separate bowl, mix corn flour/eggs with cream and milk before pouring on top of the quiche
Bake for a further 30-40 mins
More recipe to try and enjoy: