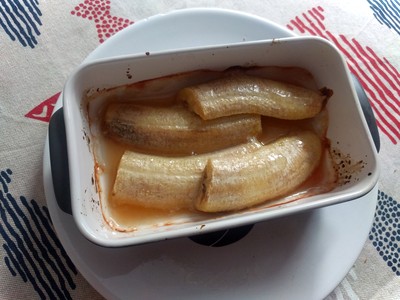 It is quite trendy at the moment to take care of our bowel, especially since the big success of the book from Giulia Enders: Gut: the inside story of our body's most underrated organ.
I experienced quite a lot of pain last year and nobody knows really what it was and how to treat it, so I started to read some article on how your guts are your second brain and I decided to give it a try. It was nothing new for me as I am cooking quite a lot and happy to try a various diet. I bought a small book (Prendre soin de son intestin from Heloïse Martel) and discovered that indeed taking care of our bowel is not that challenging. On that book, there is one recipe that I really like and keep doing it in my own way: oven baked banana with lemon juice.
This recipe is easy to make and really delicious. This oven baked banana with lemon juice is also really good when you want to get rid of bananas starting to turn brown, I would say that it is even better.
If you like this recipe and the topic I published another recipe inspired by the same book: Chicken with green bean and soya sauce
SERVE:

 

PREPARATION:

 5 minutes

COOK:

 20 minutes

DIFFICULTY:

 
What do you need?
2 bananas
½ fresh lemon juice
2 teaspoon of brown sugar
How to make roasted banana with lemon juice?
Preheat the oven at 180°C for 10 minutes

If you are already using the oven for another recipe, this dessert recipe is perfect
Slice in two parts each banana as per the picture
Put 2 half banana slices in each oven dish
Add lemon juice on top of the banana
Add one teaspoon of brown sugar on top of each banana, it will give a sweet taste to the banana and caramelise a little bit
Cook it in the oven for 20 minutes at 180°C
Serve it hot straight after removing it from the oven
More recipe to try and enjoy: