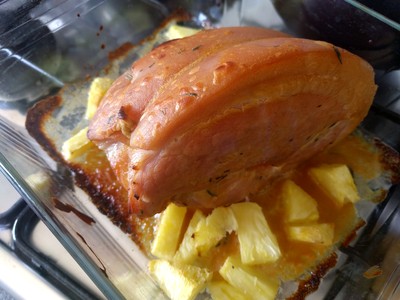 During the weekend I like to slow down and doing things that I don't have time to do during the busy week, I think it is the same thing for most people.
One of my favourite thing to do during the weekend is going to the market for grabbing vegetables and fruits and passing by the butcher, to see if there is something appealing to eat. Last weekend, when I passed by the window I saw really appealing gammon bites, so I thought it could be nice to have it on Sunday and take a large one for having some leftover for my lunch on Monday.
I didn't know before trying for the first time that it is pretty easy to cook and that smell wonderful at home. As I like mixing sweet and salty things, I cooked the gammon with mustard and honey; I get that inspiration from BBC recipe.
For giving a "tasty" taste to your gammon, I recommend putting a lot of dried herbs when you cook it in water (first part of the recipe). For mine, I put some dried rosemary and bay leaf, avoid cooking it with vegetable stock as it will add salt and it will be too salty at the end.
SERVE:

 

PREPARATION:

 10 minutes

COOK:

 20 minutes + 20 minutes

DIFFICULTY:

 
What do you need?
500 g of gammon
3 tablespoon of mustard
3 tablespoon of running honey
Dried herb such as rosemary, bay leaf
Some pineapple slices/chunks (optional)
How to make honey and mustard roasted gammon? 
Put the gammon in a large pan filled with cold water. Add rosemary and bay leaf and put it on medium heat. When the water is boiling, put a cover on it and let simmer it for 20 minutes

This step can be done just before putting the gammon in the oven or the day before, all depends on the time that you can spend in your kitchen
Preheat the oven at 200°C
In a mixing bowl, mix the honey with the mustard
In a tray that goes to the oven, put a little bit of water and some pineapple chunks
With a brush spread heavenly the mix of honey and mustard on the gammon and then add it to the oven tray
Cook the gammon in the oven for 20 minutes
Serve it hot or cold along with steamed green beans
More recipe to try and enjoy: