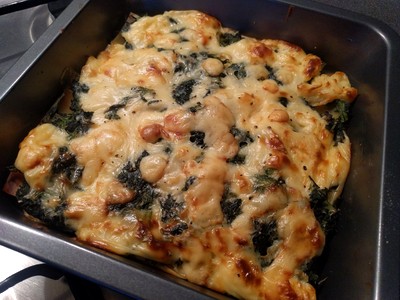 I like on Sunday morning cooking something that I will be able to take on my lunch box on Monday and sometimes even on Tuesday. Cooking like that helps me to lower my stress level on Sunday night and to postpone the lunch box making on Monday evening.  That is a pretty simple trick which triggers easily my stress level, so since I found it, I have a couple of recipes which can be cooked in advance. One of my last ones is spinach lasagna.
Eating spinach is a nice addition to a well-balanced diet; spinach lasagne is a good compromise between the lasagna bit which is comfort food and the spinach which is the healthy part of the dish, full of vitamins and minerals.
SERVE:

 

PREPARATION:

 20 minutes

COOK:

 30 minute

DIFFICULTY:

 
What do you need?
For the bechamel
40 g of corn flour
400 ml of semi skimmed milk
40 g of butter or margarine
For the spinach lasagna
400 g of frozen spinach
4 lasagna sheet
50 g / 100 g of cheddar
Salt
Pepper
How to make spinach lasagna?
Step 1: make the bechamel
Prepare the bechamel while the spinach is being defrosted through microwave

For my bechamel, I usually make it on my Moulinex Companion as you don't need to stir it.
Put in the Companion bowl, milk and corn flour
Mix them at speed 7 for 1 min
Then add butter and mix it at speed 4 for 8 minutes at 90°C

 The bechamel can also be made in a pan as followed:
Start by mixing together the milk and the corn flour
Then in a pan on medium heat, add to the mix the butter and let the mix become warm
The mix needs to be constantly stirred until a smooth consistence is achieved

 When I am doing béchamel for lasagna, I don't add in the béchamel salt and better as I prefer to add when I doing the lasagne
Step 2: make the spinach lasagna
In an oven pan, start per greasing a little bit the pan for making sure that it will be easy to serve the lasagna and easy to clean it after
Start the lasagna making by putting a little bit of bechamel in the oven pan
Add 2 lasagna sheets

 Or as many lasagne sheets as you need for covering your oven dish
With the help of a sieve, remove as much as possible of water from the defrosted spinach
Then add some defrosted spinach on top of the lasagna sheet
Add a layer of bechamel
Add salt, pepper

 You can also add some nutmeg for adding even more flavour
Then make another layer with 2 lasagna sheet
Add the leftover of spinach
Add the bechamel
Add pepper, salt
Add cheddar on top for having a nice crust on top of the spinach lasagne

If you prefer an even more cheesy spinach lasagna, you can add cheddar in between the layer of the two lasagne sheet
Put the spinach lasagna in the oven and bake them for 30 minutes at 180°C
More recipe to try and enjoy: