Whart's cooking in Pauline-Cuisine?
This week,  I was a little bit lazy, so I didn't spend a lot of time in my kitchen. Nevertheless, I have kept trying to eat healthy food, so I have opted for quiches. This week, I will share with you one of my new quiche recipes: quiche of leeks.
Since several weeks, one of my colleagues eats quiche of leeks that came from a famous French bakery in London. That quiche always smells really good. So I decided to give a try in doing mine at home.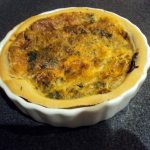 I did a first one but I was not convinced by the taste :(, so I did a second try with my quiche basis and grated cheese. The second try was a success and it was really tasty. The quiche of leeks is not the fastest quiche to make because you need time for cooking leeks but that worth it and it is a great alternative to the quiche Lorraine.
I really enjoy making and eating quiche, so I have built a large choice of recipes. If you are like me or if you want to cook something good in a few minutes, let's have a look to my various quiches recipes: salmon quiche, quiche with Roquefort and walnuts, courgettes quiche, quiche with leeks and goat cheese or a quiche with spinach and goat cheese.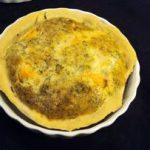 Amazing choice !! and the value added of those quiches is that you can easily freeze them for eating later. So, it is not rare that during the weekend, I cooked several type of quiche or a lot of small of one type and I froze them for eating all along the month. The tip is to cook the quiche in an individual portion, that is better when you de-freeze them and re-heat them on the microwave or in the oven.
Enjoy your quiche experience!
See you next week with the recipe of the light version of a traditional French dessert: Crème brulée.