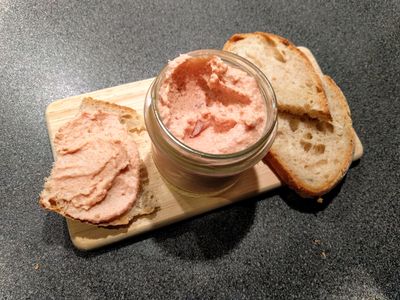 Hummus is pretty basic food for vegetarian and vegan because it is fully packed with protein. That is really easy to make it and there is some infinite combination. For this recipe, I decided to use beetroot in order to change the flavour, I added some honey in order to balance the flavour of the beetroots.
In order to be able to make quickly hummus, I am cooking a large batch of chickpea in advance and then I froze them by a bag of 100g. 100g is perfect for doing 2 meals for 2 persons.
SERVE:

  or 

PREPARATION:

 15 minutes

COOK:

 depends if all is pre-cooked

DIFFICULTY:

 
What do you need?
150 g of cooked beetroots
100 g of cooked chickpeas
2 tablespoons of tahini
1 teaspoon of honey
4 tablespoons of olive oil
1 tablespoon of water
Juice of 1 lemon
Salt
Pepper
How to make beetroot hummus?
After peeling the beetroot, put it in square pieces

If you need to cook the beetroot, steam it for 40 minutes
In a small mixer/chopper, add the pieces of beetroots, cooked chickpea, tahini, olive oil

If you need to cook the chickpea if they are all dried, they need to be soaked in a large volume of water for a night before use. Then cooked them in a large volume of cold water with a teaspoon of bicarbonate of soda for at least 40/45 minutes
Mix it
Then add honey, salt, pepper, lemon juice and water
Mix it again until achieving the desired texture

Add more water for a more liquidy hummus
More recipe to try and enjoy: