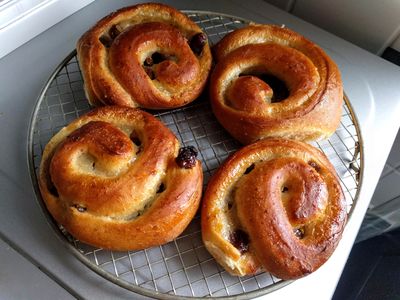 Since I am following a strict diet which excludes dairy product and eggs, I found it pretty frustrating to not be able to buy pastries. I am a sweet tooth and buying some pastries was a treat that I used to get some time to time. Not that frequently because I am baking a brioche every Friday night for having something sweet for the weekend breakfast. So back to my point, I was frustrated to not be able to buy those attractive pain aux raisins that could be found in various shops and coffee shop, so by a rainy Saturday, I decided to give it a try and do homemade one dairy free and egg free.
It was easier than I thought and really delicious. I decided to use my usual brioche dough as a base and then do the "custard" (I used my cooking food processor) with some sultanas. The process is pretty straight forward as the "custard" with the sultanas needs to be spread in the dough and then the dough needs to be rolled over and at the end sliced.
This recipe for sure will become one of my favourite for weekend treats.
SERVE:

 

PREPARATION:

 2 to 3 hours

COOK:

 20 minutes

DIFFICULTY:

 
What do you need?
For the brioche dough:
2 tablespoons of milled flaxseeds
3 tablespoons of water
Oat milk
1 teaspoon of salt
60 g of sugar
60 g of dairy free butter
250 g of flour
6 g dried yeast
For the « custard »:
1 tablespoon of neutral vegetal oil
2 teaspoons of liquid vanilla extract
50 g of sugar
20 g of flour
250 ml of oat milk
How to make a dairy free and egg free pains aux raisins?
Start by making the brioche dough
Put in a small bowl the flaxseed and the water and let it rise for a couple minutes
Then add room temperature oat milk in order to achieve 150 g
Add it in the bread maker bowl
Then add sugar, pieces of dairy-free butter and the salt
Cover it with the flour and finish by the yeast
Launch the dough program of the breadmaker (usually for 15 minutes)
Then let the dough rise covered by a kitchen towel for 40 minutes, the dough should have its volume doubled up

The proving will be faster in a warmer environment. If the recipe is done during winter, it could be good to let the dough rise on top of a radiator. Otherwise you can use one of the program of the bread maker which will keep a temperature around 30° for 40/60 minutes
While the dough is proving, start making the custard

Indeed, before using the custard, it needs to be cold and that could take at least 30 minutes

For doing the custard, I am using a cooking food processor (Companion from Moulinex) but that could be easily done in a pan. Just follow the step and don't forget to stir frequently.
Mix together the vegetal oil with the vanilla extract and sugar at speed 6 for 1 minute
Then add flour and the oat milk and launch the program: speed 6, 90°C for 10 minutes
Then put the custard in a bowl covered by cling film and leave it getting cold

The cling film is necessary as it will avoid the custard to form a crust on top
In a pre-boiled water, put the sultanas and leave them to rise
Divide into 2 parts the dough
Then roll them in a rectangular shape
On each rectangle, spread the custard and sparkle the re-hydrated and dried sultanas

Make sure to sparkle the sultanas uniformly so you will have sultanas all over the pain aux raisins
Then roll each rectangular shape dough on itself
Put them to rest for 1 hour in the fridge
Putting them in the fridge will allow the dough to get cold and then it will be easier to make the slices
Then slice both rolls of dough (2 to 3 cm width)
And put the slices on an oven tray covered with baking parchment

Make sure to leave enough space in between each slice to make sure that the slice will have enough space for rising
Let the slice rise for 1 or 2 hours, the size of them needs to be doubled up
Then mix together 1 teaspoon of sugar with 3 teaspoons of water and heat them for 20 sec in the microwave, spread the syrup sugar on to all the slices (pain aux raisins)
Preheat the oven to 180°C for 20 minutes
Put the tray with the pain aux raisins into the oven and bake them for 20 minutes

If you want to have the pain aux raisins all shiny on top (and a little bit sticky), just after removing the pain aux raisins from the oven, brush them with some of the leftover sugar syrup done previously
More recipe to try and enjoy: