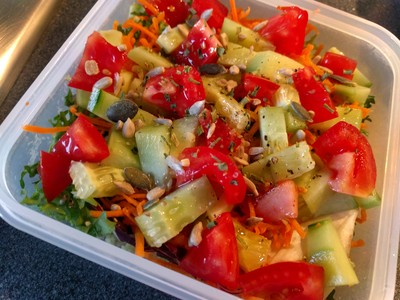 This week, I wanted to continue to do some salad with some cereals base. It is a way to change the usual salad and it is also a nice way to make some space in your cupboard (for buying new staff to try). I am going to share with you a new lunch box recipe based on couscous.
This recipe using cereals was made the same week as the one that I shared with you: quinoa and bulgur salad with avocado and fresh grapes.
Adding cereals to salad is a nice way to have salad more filling, so usually, you don't need a snack later on. The value added of the couscous is that it is really quickly cooked and it cools down quickly as well.
SERVE:

 

PREPARATION:

 20 minutes

COOK:

 0 minute

DIFFICULTY:

 
What do you need?
Salad
50 g of couscous
2 carrots
½ cucumber
2 to 3 tomatoes
Salt
Pepper
2 tablespoon of Olive oil
1 tablespoon of Balsamic vinegar
Mixed seeds: mix of sunflower seeds, pumpkin, and pine nuts (optional)
How to make a Lunch box: salad with couscous, carrots, cucumber and tomatoes?
Start by cooking the couscous as it is mentioned on the packaging

Starting by cooking the couscous will allow enough time for the couscous to be cooked and then getting cold. When the couscous is cooling down, I prepare carrots, tomatoes and cucumber and put them in various bowl for assembling them after

I usually cook couscous as follow: put 50 g of couscous in a bowl, add a pinch of salt and cover with 63 ml of boiling water. Cover the bowl and let the couscous rise for 5 minutes. Then use a fork to fluff it up once cooked
Wash the salad and dry it
Add the salad on the lunch box
Peel the carrots and grate them, reserve them aside
Peel the cucumber and cut it in square pieces, reserve them aside
Wash and dry the tomatoes and cut them in pieces, reserve them aside
Add the couscous cooked and cold on top of the salad
Add the grated carrots
Add the cucumber pieces
Add the tomatoes pieces
Add salt, pepper, one tablespoon of olive oil and half tablespoon of balsamic vinegar per salad box

If the salad is made for being eaten the next day, I recommend storing the mix olive oil and balsamic vinegar in a small pot for avoiding the vinegar to cook the vegetable
Finish by spreading the seeds on top of the salad
More recipe to try and enjoy: